Franklin Historical Museum
The newly renamed Franklin Historical Museum has moved to its new location in the heart of downtown Franklin, MA.  (Its former name was the Horace Mann Museum.)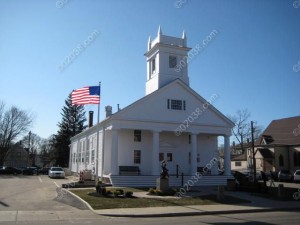 The Museum has taken over a graceful antique wooden structure at 80 West Central Street in Franklin, MA.
The building formerly was the site of the Franklin Senior Center (which itself recently moved to a beautiful new building in Franklin).
The relocation of the Museum to the old senior center site has helped further improve the Franklin downtown area.  The Museum will be a prime tourist attraction and also occasioned the renovation of the structure which will be its home.
Back in December 2007, the Franklin Town Council approved $210,000 for improvements to get the building ready house the Museum.
New columns, front steps and modern windows were installed.   Exterior work was completed in November 2008.
The Franklin Historical Museum is slated to reopen in Spring 2009.  Interior remodeling will be completed and displays set up.
The Museum exhibits will include stone arrowheads unearthed at Franklin's Beaver Pond, antique uniforms and straw hats, machinery and other articles from Franklin's industrial past, and lots of photos!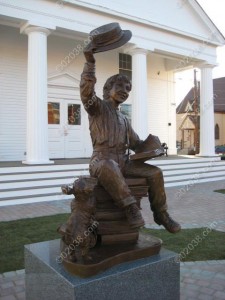 A $20,000 state grant helped defray the cost of the "Hats Off to Franklin" statue that now graces the front of the Franklin Historical Museum.
The statue's straw hat was chosen to represent town's industrial heritage as a center of US of straw hat manufacturing.
(I have read somwhere that the all the straw hats used in the movie Gone with the Wind were made in Franklin, MA.)
Click here to read about the Franklin Public Library, a very important piece of Franklin, MA's history.
Click here to learn more about efforts to upgrade and beautify Downtown Franklin, MA.