Franklin, MA YMCA programs for kids
Franklin, MA's Hockomock Area YMCA recently released its program guide for spring 2010.  With almost 80 pages of programs and activities, the guide has offerings for all ages and fitness levels.
Programs for young children
With warmer weather coming, parents and adults caring for young children are on the lookout for safe, wholesome activities for the little ones.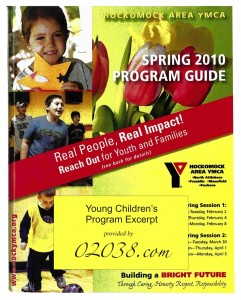 Click on the the image above or the hot link to download a special edition of the YMCA's spring guide focusing exclusively on fun activities for young children.
Safe place for fitness, learning and fun
It can be a blessing to have some place for the kids to go for a few hours every week.
The YMCA in Franklin, Massachusetts provides a safe, local and truly beneficial place for children to learn and burn off excess energy.   My 10 year old has loved going there since he was about 4 years old.  He learned how to swim at the YMCA.
The Hockomock Area YMCA is quite an asset to have right in town!
Copyright ©2010 02038.com