Highwood condos convenient for commuters
The Highwood condos in Franklin, MA are a short drive to exit 17 on Interstate 495, the main commuter highway in the region.  Those taking the train to Boston will be pleased that the Forge Park station is about 5 minutes away from Highwood.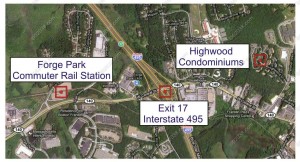 Video of commute from Highwood
Here is a video showing how quickly you can drive from Highwood to Interstate 495 and the Forge Park commuter rail station in Franklin, Massachusetts:
Two commuter rail stations in Franklin, MA
Franklin is fortunate to have two commuter rail stations: Forge Park (just to the west of Interstate 495) and the Dean College station (in the heart of Franklin's downtown area).
Highwood is close enough to both stations that residents of that condominium community could use either station for their commute to Boston.
Unless you get up and out to work early, you may find that getting parking is easier at Forge Park, however.  The Dean College station parking lot fills quickly.
Copyright ©2011 02038.com