Keller Elementary bottle and can drive a winner
The annual Fall bottle and can drive for the Helen Keller Elementary School in Franklin, MA was held this past weekend and was a big success.  The fundraiser was sponsored by the Parent Communication Council (PCC) and highlights the vital support role the PCC plays with the public schools of Franklin, Massachusetts.
Bottle and can drive a success
The drive was a great opportunity to get involved, make a difference in the community and help the school kids enjoy a richer school experience.
Volunteers sent out leaflets ahead of time.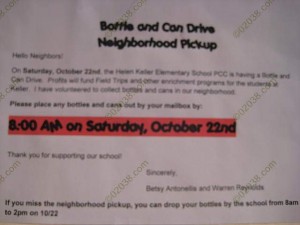 On the day of the drive, town residents left bottles and cans in front of their houses for collection.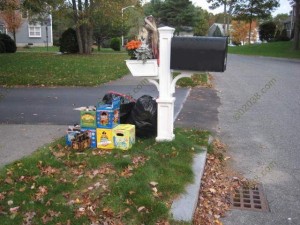 It made for a busy morning, driving around picking up the donations.  The weather was warm and sunny which certainly helped the pick-up volunteers.
Once the bottles and can were collected, they were brought to the Keller School for sorting.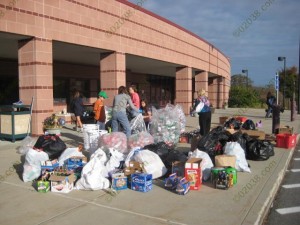 It took some time and effort.
About $500 was raised – that's a lot of bottles and cans!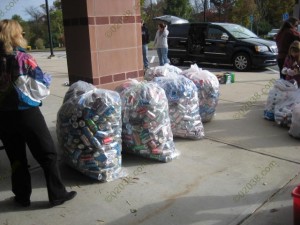 PCC supports public education in Franklin, MA
The Keller PCC holds a variety of fundraisers to support the Keller School.  The PCC helps fund enrichment activities for Keller children that are not covered by the school budget.  Monies raised by the PCC are also used to make enhancements to the school's buildings and grounds.
The Keller PCC makes a big contribution to the quality of life at Keller Elementary.  If you have children at Keller or just care about the future of public schooling, please consider volunteering or making a donation.
Moving video about education
Below is an excellent video demonstrating the important role teachers (and parents as the primary educators) should play in lives of children – hope you enjoy this inspiring video:
Copyright ©2011 02038.com