Excellence in academics: how does the Kennedy School rate?
You can learn quite a lot about any school in the Commonwealth of Massachusetts from the on-line profiles maintained by the MA Department of Education.
Kennedy Elementary School profile
The profile for the Kennedy Elementary School is Franklin, MA is no exception: that profile gives an in-depth look at how well the school serves its students and provides them with an excellent education.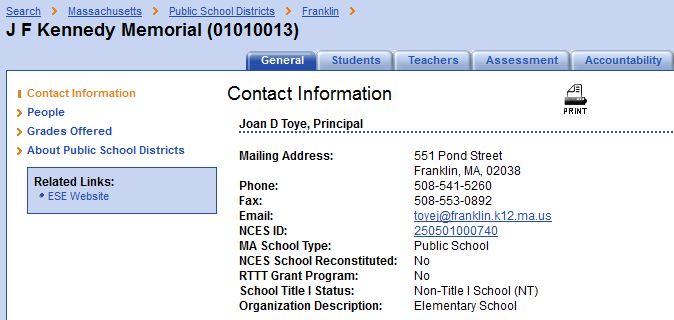 Follow the image above or the hotlink access the profile for the Kennedy School.
MCAS test results for Kennedy
The Kennedy Elementary School does a solid job getting students ready to take the annual MCAS tests.
Boston. Com issues rankings of all Massachusetts schools based on MCAS test results; you can see how all schools in Franklin, MA rank by clicking the hotlink.
Here's how the Kennedy School students scored on the most recent MCAS test: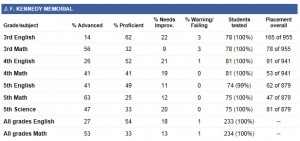 Excellence in math and science
The Kennedy School in Franklin, MA excels in math.
The school ranks in the top 8% of all MA elementary schools for 3rd grade math, the top 6% of all MA elementary schools in 4th grade math and in the top 5% of all schools for 5th grade math, the school came in at number 11 in the entire state (out of 879).
Results were not too shabby for English and science, either!
Top rank on GreatSchools.org
There are lots of school ranking websites. One very good ranking site is GreatSchools.org.
Here's what GreatSchools has to say about the Kennedy School in Franklin, MA:
"It is among the few public elementary schools in Massachusetts to receive a distinguished GreatSchools Rating of 10 out of 10."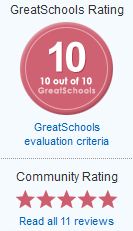 As you can see, the Kennedy School is something special! Follow the image above or the hotlink to view what GreatSchools.org has to say about Kennedy.
Copyright ©2012 02038.com