Homes for sale in the Keller school district Franklin MA
The Keller Elementary School in Franklin, MA is an excellent school!  On this page you'll see all the Franklin homes in the Keller district that are currently for sale. You'll also learn why Keller is such a highly-desirable school!
Use the hotlink to see information on all the public schools in Franklin, MA.
Keller district map
This map shows the location in Franklin of the Keller School district: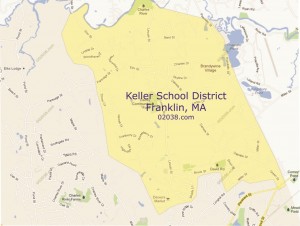 Keller video tour
The video below gives you valuable insights into the educational experience at Keller through a tour of the classrooms and other important features of the Keller school campus:
Homes for sale in Keller district
Here is a selection of the homes currently for sale in the Keller School district in Franklin, MA.  Note that there may be some discrepancies in what is displayed below and the official district list maintained by the Franklin school system.  Please confirm with the school that the home you are interested in is in the Keller district.
Use the hotlink if you'd like to get a full list of all the properties for sale in this school district or if you'd like to get inside any of the homes shown below.
Copyright ©2012 02038.com