Franklin, MA celebrated the upcoming start of construction of the new Franklin High School with a ground breaking ceremony held earlier this week at the site of the new school.
Beautiful day for the ground breaking ceremony
A warm fall sun shone from beautiful blue skies  . . .

as shovels full of dirt were tossed and . . .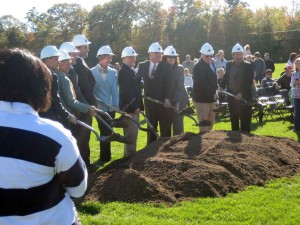 the Franklin High Lyricals and Pep Band performed for onlookers.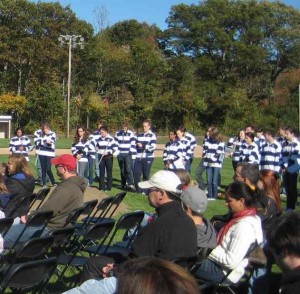 Video of events
Speeches were made by a number of politicians, the chairs of both the school board and school building committee, and the executive director of the state School Building Authority.
Here is a video of some of the day's events, including some of the notable comments presented by Tom Mercer, the chair of the Franklin School Building Committee:
Highlights of the new High School
Construction will begin later this month with occupancy of the 306,543 gross square foot facility scheduled for Fall 2014.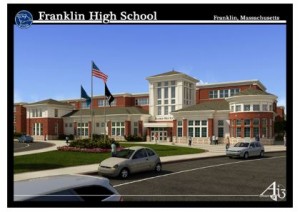 With a designated enrollment of  1,650 students, the school will cost approximately $86.7 million.  Franklin's share of the cost is projected to be approximately $47 million with Massachusetts picking up the rest of the tab – quite a bargain for Franklin!
The facility will be home to state-of-the-art instructional labs that will accommodate all the major sciences including chemistry, physics and biology.  The deplorable science labs at the current high school presented an especially compelling reason to approve the new school.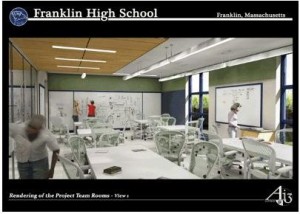 Coupled with the labs will be innovative long-term science and research project rooms designed to enhance instruction and encourage collaborative learning.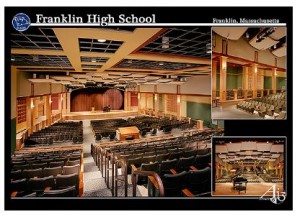 There will also be a beautiful 800+ seat auditorium, bringing with it significant upgrades to and expansion of practice and storage space for drama, band and choral programs.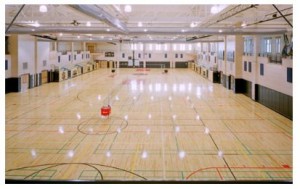 The new high school in Franklin, MA was very much needed and will be an educational showpiece for the town for years to come!
Copyright ©2012 02038.com