Oak St Elementary School Franklin MA tour
Take a few minutes to tour the inside of the Oak Street Elementary School in Franklin, MA.  The school got a full renovation in 2004.  As the videos and photos below show, this is a beautiful primary education facility!
State-of-the-art classrooms
Classrooms at Oak Street Elementary in Franklin, MASS are modern, large and well-equipped. These are classrooms students, parents and staff can be proud of!
Quality Media Center
The attractive Media Center at the Oak Street Elementary School provides the print and electronic resources needed to help students develop reading and online information skills. The Mann Middle School shares the Media Center with the Oak Street School.
Computer Lab
The Computer Lab at the Oak Street Elementary School aims to help students develop the skills needed in our computer-centric economy and society.
Colorful hallways
The Oak St Elementary School is very fortunate to have wall murals painted by Bren Bataclan a world renowned artist based in Boston whose work has been featured on the CBS World News and in print publications ranging from Smithsonian Magazine to The New Yorker. The halls are bright and modern and also feature lots of art by students. A very happy school environment!
Art and music
Here are views of the music room . . .
. . . and art room.
Homes for sale in the Oak St school district
You can see all the homes for sale in Franklin, MA that are served by the Oak Street Elementary School by following the hotlink or the image below: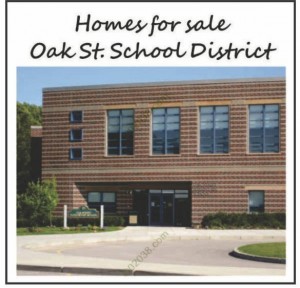 Oak Street Elementary profile and performance rankings
Follow the hotlinks or the images below to access the profile for the Oak Street School created by the MA Department of Education, standardized test results for students at Oak Street Elementary and the school's website.
Photo gallery of school
Below are photos of the Oak Street Elementary School in Franklin, Mass.