Here's your chance to see the inside of the Jefferson Elementary School in Franklin, MA. Jefferson Elementary is one of the most recently built schools in town, as amply demonstrated by the video and photo tour of the school provided below.
Welcoming lobby, appealing hallways
The lobby and hallways at the Jefferson Elementary School in Franklin, Massachusetts are wide and well-lit, enhancing the children's schoolday environment.
Modern classrooms
Classrooms at Jefferson Elementary in Franklin, MASS are spacious and clean.
There are lots of materials with which to explore and work. Jefferson classrooms are rich environments for learning and personal growth!
Superior Media Center
Gone are the days when printed books were the centerpiece of a school library. The typical elementary school library in the US is now the Media Center (or Knowledge Center) providing access to a rich universe of resources beyond the old standbys of books and old-fashioned audiovisual materials.
The Media Center is shared by both the Jefferson Elementary and Remington Middle Schools.
Computer Lab
Today's students have never lived in a world without the Internet. They are familiar with computers, smart phones, iPads and gameboxes. They are ready to develop their tech skills and that's exactly what Jefferson's Computer Lab helps them accomplish!
Modern Gym
PE is more fun when you have an up-to-date gym!
Cafetorium
The Cafetorium is a state-of-the-art facility that serves students attending the Jefferson Elementary and Remington Middle schools.
The table area is where students have lunch. The auditorium stage is the setting for music presentations, art shows, assemblies and other school functions throughout the year.
See homes for sale in the Jefferson school district
You can see all the homes currently for sale in the Jefferson Elementary school district by following the hotlink or the image below: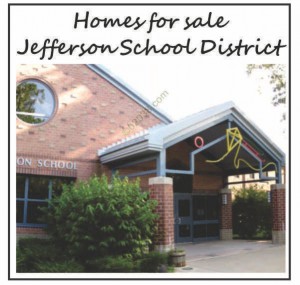 Photo gallery of Jefferson Elementary
Below are photos of the interior of the school: