Sweet treats, music and fun at the Franklin, MA Strawberry Stroll
Enjoy food, fun and freebies this Thursday, June 13 in Downtown Franklin as the Franklin Downtown Partnership holds its annual Strawberry Stroll from 4 to 7 PM.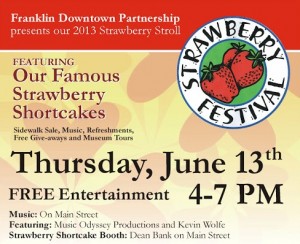 Main Street Stroll
Main Street will be lined with booths and displays offering giveaways and discounts on products and services from local businesses.
An expected throng of hundreds of hungry people will be eager to dig into strawberry shortcake and enjoy free live music.
There will be special events for the kids and free balloons at the Century 21 office at 9 Main Street for the young of all ages.
Strawberry shortcake!
You can buy delicious strawberry shortcake outside Dean Bank's main office at 21 Main Street.
Volunteers expect to serve at least 700 shortcakes Thursday using over 40 gallons of sweet strawberries at this popular event.
Video of past Franklin strawberry fun
Here's a taste of what you can expect at Thursday's event:
Stop by the Franklin Historical Museum
Everyone at the Stroll Thursday is invited to stop by the Franklin Historical Museum to take a look at their new display of vintage wedding gowns. The Museum is located at 80 West Central Street in Franklin, MA.
The Strawberry Stroll is just one of a number of fairs and festivals held annually in Franklin, Massachusetts. These fun events contribute to the wonderful sense of community that makes Franklin, Mass such a great place to live and raise a family in!
Copyright ©2013 02038.com