The Fourth of July Celebration in Franklin, MA
The Fourth of July Celebration is a multi-day treat for the whole family held every year in Franklin, Mass.  This year there will be a laser light show at 10 PM July 3 at the Town Common in lieu of the annual Independence Day fireworks display.

The ongoing construction of the new Franklin High School has temporarily forced the suspension of the beloved fireworks.  (The fireworks launching area would have been too close to the school construction site – the town didn't want to create a safety hazard!)
Schedule of events
It's a full five days of fun, food and music this year with lots of carnival rides and special events for the kids.  Events get under way July 3 and extend all the way through July 7.  Here's a schedule in a downloadable and printable format: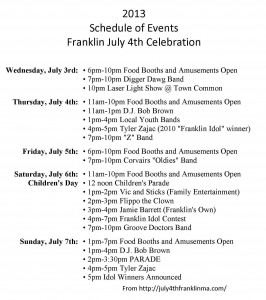 Videos of past Celebrations
You can get a good sense of what's in store for you at this year's Celebration by taking a few minutes to look at the videos below:
The 4th of July Celebration is good, wholesome fun and is just a small part of what makes Franklin, Massachusetts such a great place to call home!
Copyright ©2013 02038.com