July 4th Celebration a hit in Franklin MA
2014's rendition of the Franklin 4th of July Celebration was held from Wednesday, July 2 through Sunday, July 6 in the Town of Franklin, Massachusetts.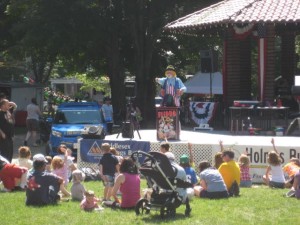 Rains on July 4th itself failed to dampen the mood over the ensuing weekend as people flocked to the Franklin Town Common for carnival rides and games, food and a variety of live shows and entertainment.  The highlight on Sunday was the annual parade through the downtown area.
Videos of events
Above is a video gallery of the Fourth of July Celebration in Franklin, MA.
Due to the ongoing construction of the new Franklin High School, the annual fireworks display was not held.  (Until the new high school opens and the existing structure is demolished later this year, there is insufficient clear ground on the high school campus from which to launch the fireworks show.)
Celebration helps define the Town of Franklin
For approximately 5 days every July, the annual Fourth of July Celebration takes over the Franklin Town Common.  This is a much-beloved event that helps define the Town of Franklin, MA as an open, welcoming community where children, friends and family come first.  Franklin has won much local and national attention over the last five years as a great place to put down roots!
The entire expense of the Celebration is covered by the Franklin MA Fourth of July Coalition which operates via donations from town residents, area businesses and governmental grants.  And the Celebration is just one of many fun, family-friendly events held each year in town!
Franklin has great schools, a superior housing stock and an ideal commuter location on I-495 with two commuter rail stations to Boston.  If you are in the market for a home in eastern Massachusetts, you've found the right place!  Contact Warren for help finding your home in Franklin!
Copyright ©2014 02038.com