Memorial Day in Franklin, MA
Memorial Day pays tribute to members of the American armed services who died while serving their country, either in war or peacetime. Remembering and giving thanks is the enduring theme of Memorial Day events in Franklin, MA.
Best of Franklin community on display
An inspiring cross section of the strong local community goes on display each year at the Memorial Day commemorations in Franklin, MA.  Here is a video of the Memorial Day commemorations in Franklin, Massachusetts:
Veteran's organizations including VFW Post 3402 and American Legion Post 75 worked with the Franklin Rotary Club to coordinate and conduct events.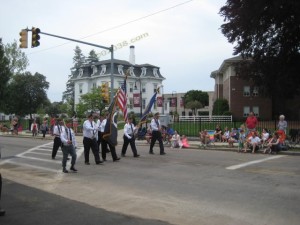 Members of the various Girl and Boy Scout organizations serving Franklin participated in both the parade and ceremony at the Town Common.
Marching bands from Franklin High, Benjamin Franklin Charter, and the Sullivan and Remington Middle School performed for the crowds lining Main Street.
You can learn about other community events and festivals in Franklin by following the hotlink.
America owes a lot to its veterans!
Copyright ©2015 02038.com