Boston Magazine recently published its annual rankings of public school systems in Massachusetts. In its tally, Boston Magazine placed the Franklin School District a fairly respectable 51st among what it deems the top 125 public school systems statewide. You can view the magazine's 2015 rankings here or by following the link in the image below: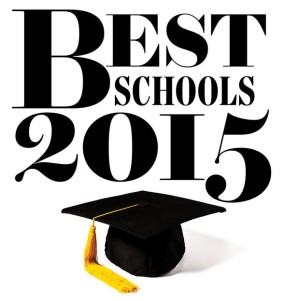 Methodology used favors higher spending school districts
For its 2015 school rankings, Boston Magazine says it chose a methodology that lessens the importance of academic performance (as measured by standardized test scores). Instead, in a self-described effort to reward school districts that spend more money, Boston Magazine says its calculations intentionally favor districts with high costs per pupil, small class sizes and high teacher to pupil ratios:
 ". . .we rewarded schools that have smaller class sizes, lower student-to-teacher ratios, and higher rates of per-pupil spending, among other characteristics. In response to criticism of such rankings, we've also tried to deemphasize test results. We still take standardized test scores into account—but we reduced the weight of those scores within the overall rankings."
This "spending over academic performance" weighting seems to have penalized Franklin in Boston Magazine's analysis. Franklin schools are known for achieving solid test results while spending LESS per pupil than many other top performing school districts in the Commonwealth.  The Franklin School District's limited budget helps keeps Franklin's real estate taxes a lot lower than most other communities in MA that have good schools, but that seems to count for little in the eyes of Boston Magazine.
Franklin equals or beats high school test scores for a majority of Boston Magazines' top 50 districts
Despite placing 51st in Boston Magazine's 2015 public school district rankings, Franklin posts some truly excellent high school MCAS test scores.  Franklin High's MCAS scores actually match or exceed the scores produced by over half of  the districts that were placed in the top 50 districts by Boston Magazine: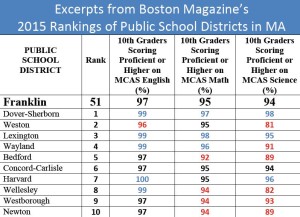 In the chart above, the test scores are color coded as follows: Red scores are lower than Franklin's; Blue scores are higher than Franklin's; Black scores equal Franklin's.  There's a heck of a lot more red and black than blue in the above chart!
As shown in Boston Magazine's own rankings, Franklin High School's MCAS scores match or exceed those of the following top ranked school districts (rank awarded by Boston Magazine shown in parentheses): Weston (2), Bedford (5), Westborough (9), Newton (10), Sharon (11), Lincoln-Sudbury (13), Marblehead (17), Northboro-Southboro (18), Brookline (20), and Needham (22), among others.  We should all be in favor of smaller class sizes and a greater ratio of teachers to students, but should Foxboro be ranked at 35 while at 51, Franklin has high school MCAS test scores that substantially exceed those at Foxboro High?
One comment posted by a reader on Boston Magazine's website summaries the distortions created by the 2015 weightings:
"Quick question, how did Acton Boxborough fall from being ranked number 3 in 2014 to number 25 in 2015?"
Another reader supplied a very succinct and telling answer:
"They reduced the weighting of the scores – so a school with higher scores but not as high per student spending would not surprisingly fall in the rankings. Don't sweat it, it's just a chart."
So if anyone asks you about Boston Magazine's ranking of Franklin's public schools, it seems you should tell them . . .
"Don't sweat it, it's just a chart."
Copyright ©2015 02038.com