In a recent appearance before the Franklin Planning Board, developer John Marini announced that he has halted the planned 3rd stage of his Franklin Center Commons project in downtown Franklin for at least three years.
Marini blamed the delay on his inability to obtain construction financing.  He also cited difficulties he has encountered in selling the residential condominium units he has built on spec as part of the 2nd phase of the development.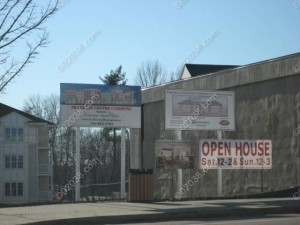 Marini explained to the Board that after over 2 months of marketing, he has had no takers on any of the  27 condo units he currently has for sale in the new elevatored building he recently completed in downtown Franklin as part of phase 2.  Prices for the one and two bedroom units range from $249,900 to $369,900.  The location is excellent, providing easy pedestrian access to commuter rail service to Boston.
Instead of proceeding immediately with the 3rd phase of Franklin Center Commons, Marini said he would rent commercial space in the preexisting building at the site for the next three years, after first investing $100,000 in renovations to the structure. 
Mr. Marini expressed confidence in his ability to eventually undertake the 3rd phase of the Franklin Center Commons project once the current recession ends.
Click here to see the full article on the Franklin Center Commons announcement as published by the Milford Daily News.
Copyright ©2009 02038.com