Built by Toll Brothers in the 1990s, Franklin Oaks is an admired neighborhood of outstanding homes in Franklin, MA.
Homes currently for sale in Franklin Oaks
Here are the houses for sale now in Franklin Oaks:
(If there are no homes shown above, there are no current listings in Franklin Oaks.)
Video of Franklin Oaks
Below is a video of this fine Franklin, Mass subdivision:
Facts about Franklin Oaks
You'll find colonial homes at Franklin Oaks with a few contemporary enhancements that add drama and style to the interior space. Approximately 60 homes comprise the neighborhood. Excluding finished basement space, a substantial portion of the homes here offer between 3,000 sq ft and 3,500 sq ft of living area. While some houses at Franklin Oaks are smaller, there are others in the subdivision in excess of 4,500 sq ft. Lots sizes run from approximately .4 acre to just over an acre.
The neighborhood has underground utilities and has town water and sewer service.
Recent home sales in Franklin Chase
Below are Franklin Chase homes that sold during the last twelve months:
Superior location
Franklin Oaks is situated off Partridge Street, an officially designated scenic road in north Franklin.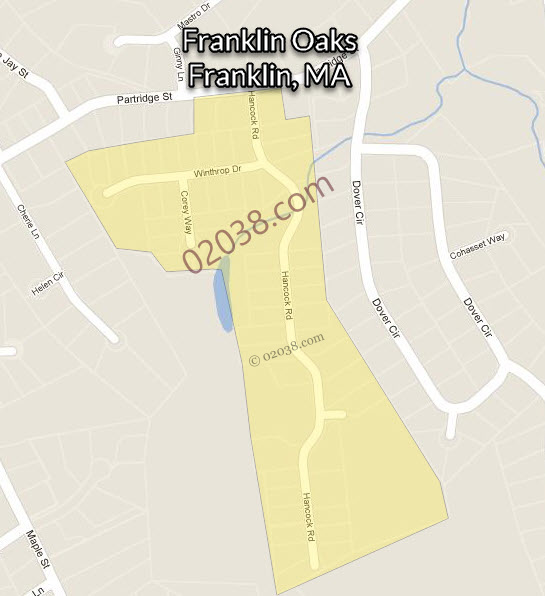 The neighborhood has no through-traffic yet is very close to several of the most sought-after neighborhoods in Franklin, including Highland Estates, Franklin Chase and Winterberry Farms.
The Kennedy Elementary School is minutes away.  Dacey Community Fields are just a short drive from Franklin Oaks.
Contact Warren Reynolds to learn more about living in Franklin Oaks and the Town of Franklin, MA!