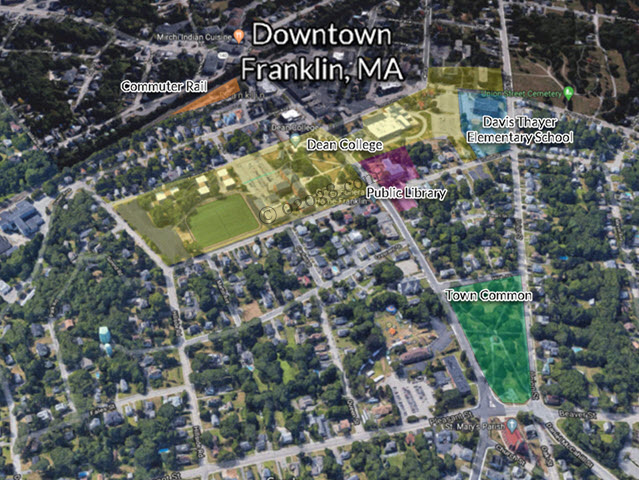 Franklin is blessed to have a downtown core enhanced by a unique mix of strong private educational/charitable organizations, an MBTA commuter rail station and a diverse array of local businesses who all work together to make Downtown Franklin serve as a hub of the greater Franklin community.
$7 million facelift
The Downtown area of Franklin underwent a significant road and streetscape remodeling project which was completed in 2016. For many long months in 2015 and 2016, construction equipment and road workers disrupted the downtown area. The work made substantial improvements to the look and feel of the Downtown area. There are new sidewalks, new lighting, new benches and green spaces, and the crosswalks are now attractive red brick. In a boon to shoppers, the parking meters were removed.
Most importantly, the new 2 way traffic flow has greatly improved getting to and around the downtown area.
Three factors help Downtown Franklin thrive
Downtown Franklin offers more in terms of shopping, services and things to do than what is available in the downtown areas of most other towns in the 1-95/I-495 region of Massachusetts. That's due to three key influences that help maintain economic activity in Downtown Franklin.
Commuter rail station
Franklin benefits from having two stations on an MBTA commuter rail line to Boston's South Station (Forge Park/495 and the Dean College/Franklin).
The Dean College/Franklin station is located at 75 Depot Street in Downtown Franklin.
The people who use the station for weekday commuting and weekend trips to Boston add extra life to Downtown Franklin and support the Downtown business community.
Dean College
Dean College is a private, residential college in Franklin. Set on a 100 acre campus in Downtown Franklin, Dean has an undergraduate enrollment of just over 1,300, with about 1,200 full-time students. 90% of the full-time students live on campus. Dean draws students from around the world and it is very stimulating seeing such an international student body walking to classes and throughout the downtown area.
What the students bring to the Downtown area is youth, vitality and additional patronage for downtown businesses. There are quite a number of banks, eateries, retailers and service providers in the Downtown area of Franklin, MA.
Franklin Downtown Partnership
The Franklin Downtown Partnership is a charitable and educational organization dedicated to improving Downtown Franklin.

The Partnership receives financial support via government grants along with membership dues and donations from Franklin businesses and residents. The organization helps beautify the downtown with seasonal plantings and displays. In addition, the Partnership sponsors several annual events that bring thousands of people to the Downtown. These include the Strawberry Festival, Harvest Festival and the Holiday Stroll.
Browse the posts below to learn more about Downtown Franklin, Massachusetts.
Copyright ©02038.com
April 24, 2019
ArtWeek 2019 gets underway in Franklin, MA on Friday, April 26 and ends on Sunday, May 5. It's part of the annual springtime celebration of the
[…]