The average rate for 30-year fixed-rate mortgages dropped below 5% early in April 2009.  The average rate now is 17% lower than it was one year ago.  This makes now a perfect time to refinance your current mortgage (or buy a new home).
The average 30 year fixed rate was at 4.87% rate on April 8, 2009, according to figures released by Freddie Mac.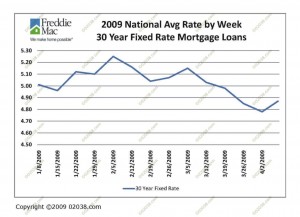 One year ago, the 30 year fixed rate loan rate averaged 5.88%.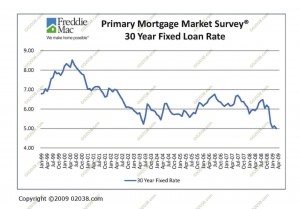 The Federal Home Loan Mortgage Corporation (FHLMC or "Freddie Mac") tracks mortgage interest rates throughout the US.  It publishes a number of mortgage rate indices on a weekly and a monthly basis.
Mortgage rates are at historic lows.  As reported by Freddie Mac, the low rates are spurring a jump in mortgage loan applications.  Since February 2009, loan applications for home purchases have risen about 22 percent and applications for refinancing are up almost 129 percent.
What seems especially significant is the fact that Freddie Mac's rate averages show fixed rates as being on par with and sometimes even lower than adjustable rates.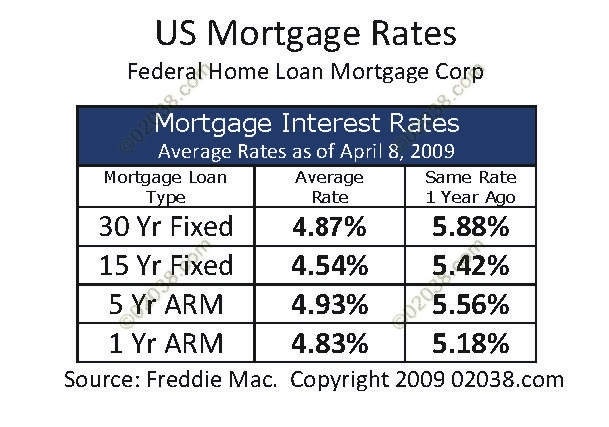 If you have an adjustable rate mortgage loan, you may want to look at switching to a fixed rate loan.  
Whatever type of loan you have, you might want to refinance to take advantage of the currently very low interest rates.
If you need a referral to good, reputable mortgage loan experts, please let me know.  I'll put you in touch with a couple of trustworthy loan reps I know well.
Copyright ©2009 02038.com