Median single family home sale prices rose in a number of MA towns in the first half of 2009.  The median price of a home in Franklin, MA rose, putting the town firmly in the ranks of the "fortunate few" Massachusetts communities which saw median home sale prices rise in 2009.  Many other MA communities experienced continued home price drops during the first half of 2009.
The checkered performance of Massachusetts real estate during the first 6 months of 2009 (median prices rising in some towns while still heading lower in many other Bay State communities) may point toward a forthcoming real estate market bottom.  But it also highlights the challenges Massachusetts real estate faces as we move into the 2nd half of 2009.
The median single family home sale price rose over 16% in Franklin, Massachusetts (from $365,000 to $420,000), bouncing back from the sharp decline experienced in the first half of 2008.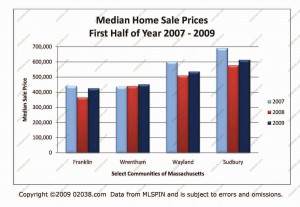 First half 2009 median sale prices also rose in such select suburban towns as Sudbury, Wayland and Wrentham.  Except for Wrentham, the 2009 median price rebound in all these communities left home values below where they were in 2007.
In certain high-end Massachusetts towns however, it looks almost like a real estate boom.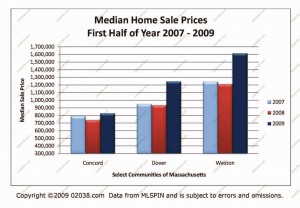 First half 2009 median single family home sale prices skyrocketed in Dover and Weston.  First half 2009 median home sale prices in these towns far exceed 2007 median price levels.
On the other hand, median sale prices in 2009 continued their unrelenting decline in the majority of MA cities and towns, falling significantly in lower income communities such as Brockton, Fall River and Mattapan.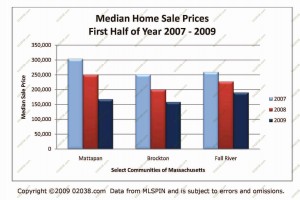 These widespread declines dragged first half 2009 sale price statistics down in the broader MA markets.  Median single family home sale prices fell in all of Eastern Massachusetts and the regional market around Franklin in the first half of 2009.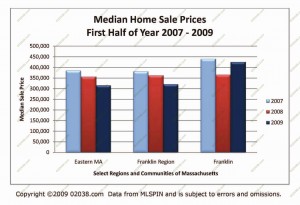 It looks like we're experiencing the Massachusetts real estate version of Dickens' A Tale of Two Cities.
For the few fortunate MA communities, real estate in 2009 is faring fairly well.  The 2009 rebound is highly uneven, to be sure, but the more affluent, desirable suburban communities in MA seem now to be skirting the worst of the real estate recession.
While in the former mill towns and low income communities of Massachusetts, times remain very bleak indeed.
If you live or invest in the communities where home prices rose in the first half of 2009, don't pop the Champaign corks yet because sharp statistical swings in prices can occur with small market samples.  And there are substantial uncertainties facing the national economy. 
But the fact that home for sale inventories in MA have dropped and real estate in Franklin "feels" more normal in 2009 further the prospects for an emerging real estate bottom in Massachusetts.
Copyright ©2009 02038.com