The inventory of homes for sale in Massachusetts dropped modestly during the first half of 2009 compared to last year.  This is good news for the Massachusetts housing market, especially coming as it does on the heels of the recently reported increase in Boston area home prices.
Market Bottom?
Home-for-sale inventory is a closely watched real estate market barometer.  A sustained decrease in the supply of homes for sale often signals future real estate market strength.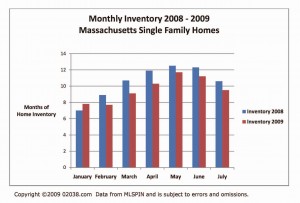 Starting in February 2009, the supply of homes for sale in Massachusetts has been lower each month than the same month in 2008.  (Note that housing inventory in MA is highly seasonal, typically peaking each year during the spring home selling season.)
If Massachusetts housing inventory continues its downward trend for the rest of 2009, the bottom of the current market cycle might arguably be at hand.   Caution is called for in this trend of thought, as the national economic situation is so problematic.
Franklin, MA Home-for-Sale Inventory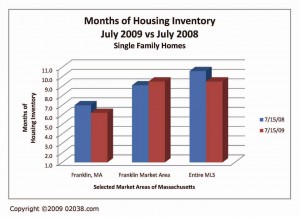 The absorption of home-for-sale inventory was also evident in the local Franklin, MA  real estate market during July 2009.  The supply of homes for sale in Franklin, Massachusetts dropped 11.5 % in July (to 6.2 months of supply versus 7 months last year).
Condominium Inventory
Inventory figures for condominiums in Massachusetts for July 2009 remained dominated by Franklin's glut of new construction units.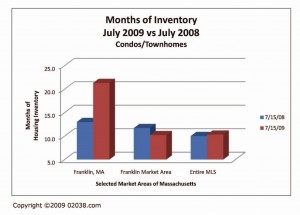 The inventory of available condos in Franklin is positively bloated.  Timing seems to be the problem: quite a number of new condo communities all came on line in Franklin at roughly the same point in the market cycle. 
These new communities are attractive and offer many fine features.  Units are selling, it's just that standing inventory remains very high because there are so many new units for sale.
You can learn more about home sale data by clicking the highlighted link.
Click here to see Franklin, MA homes for sale as well as available property throughout the Route 495 region.
Copyright ©2009 02038.com