"I have hired many realtors in New Jersey, Pennsylvania and West Virginia.  Out of all of them, you are only one of two I would hire again.  Even in a tough real estate market, you hung in there.  Your honesty and steadfastness is sincerely appreciated."
Seller of a Home in Holliston, MA
Hi!  My name is Warren Reynolds and I'm engaging in a bit of shameless self-promotion in this post.
Focus on Helping You, Not Just Selling Homes
As a Realtor® in Franklin, MA my main focus is NOT on the homes for sale in Franklin MA and the greater Route 495 region.
Rather, I focus on helping you.
I help you, the Massachusetts home buyer or home seller, surmount challenges, solve problems and achieve your ultimate goal of improving your lifestyle and standard of living. 
I do that by putting your best interests first when I help you buy or sell real estate in Massachusetts.
Appreciation for Warren Reynolds
Here's a letter of appreciation a home seller sent me recently: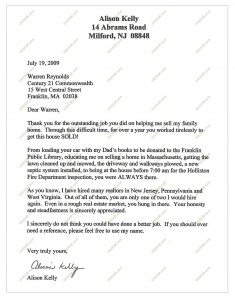 Many Testimonials and Recommendations
I over the years I have received quite a number of letters of appreciation from clients, so you can rely on these as comfirmation that I do my job well!
If you know of someone thinking of buying or selling a home anywhere in MA, please have them contact me.
Please click here to learn more about Franklin Realtor® Warren Reynolds!
Copyright ©2009 02038.com