Fewer homes sitting unsold on the market often signal better times ahead for real estate. So the ongoing absorption of single family home inventory in Massachusetts is good news for local homeowners.

Improvement in Franklin, MA  home for sale inventory
The inventory of single family homes for sale in Franklin, MA dropped a whopping 25% in October (to a relatively scant 3.9 months of supply, down from 5.2 months back in October 2008).  This again is good news as fewer homes sitting unsold on the market often precedes a rise in home prices.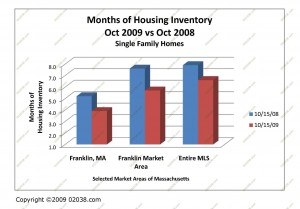 An identical 25% inventory draw-down also took place this month in the regional market surrounding Franklin (to 5.7 months of supply from 7.6 months a year ago).

Significant inventory absorbed statewide
It was nearly as good news in the broadest measure of the MA real estate market.
For all of Massachusetts in October 2009, there was a 16.5% decline in the supply of single family homes listed for sale according to data maintained by MLSPIN, the MLS system serving the Commonwealth. 
MLSPIN currently carries a 6.6 months' supply of  homes for sale throughout the state compared to the  7.9 months' supply it carried last October.  So things are looking up!
Copyright ©2009 02038.com