The graceful gazebo on the Franklin MA Town Common is getting some much-needed attention.  An puzzling original design flaw is being corrected.  The structure is getting a new broader roof, new electric lights, new railings and a general refurbishing.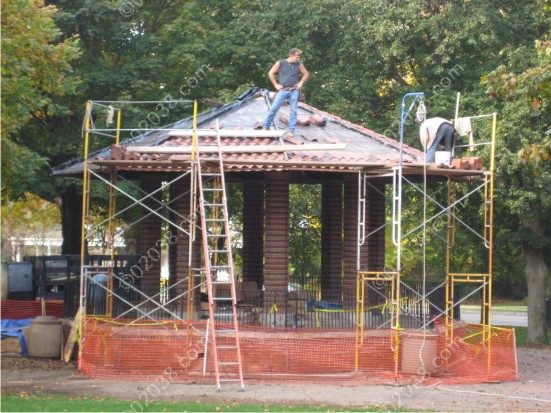 Franklin treasure since 1918
The focal point of the summertime Concerts on the Franklin Common and several cherished annual holiday events including the July Fourth Celebration and the Holiday Lighting of the Common, the gazebo has suffered substantial deterioration over the years since it was built in 1918.

Poorly designed roof
Much of the damage stemmed from an inexplicably flawed roof design. 
As outlined in an article the Milford Daily News originally published back in February, the circular roof of the gazebo was built with a too narrow radius.  This left the brick and mortar base exposed to the elements.
Repeated cycles of freezing and thawing of winter ice and snow have eaten away at the gazebo base.  Clay roof tiles have also broken, allowing the underlying wood structure to rot.
More photos of the work to date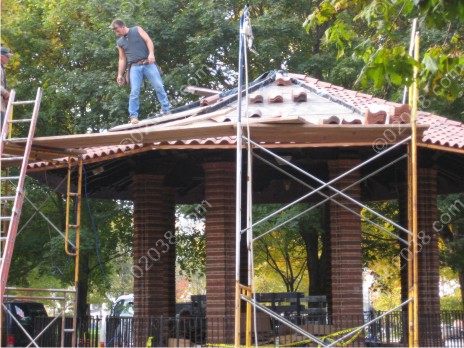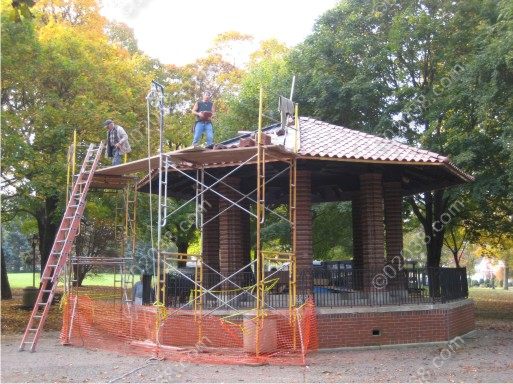 Quarter million dollar job
Cost estimates back in February for making the roof larger and doing the other improvements to the gazebo totaled approximately $250,000.  The expense is well worth it as it will help assure many future generations get to enjoy this wonderful Franklin, MA landmark!
Click here learn more about Franklin, Massachusetts.

Copyright ©2009 02038.com