Improving economic conditions across the US are creating new obstacles to short sales, according to an article in the current edition of BusinessWeek magazine.  The firmer economy reportedly is prompting more mortgage lenders to refuse to cooperate with short sales or seek extra money from short sellers at closing. 
Click the link to learn more about what short sales are and how they have helped distressed home sellers get out from under their onerous mortgage debt burdens.
BusinessWeek claims that many lenders now are reluctant to consent to short sale requests. 
Some lenders withhold consent unless short sellers come up with significant extra money at closing.  Other lenders reportedly are demanding that short sellers sign a promissory note in return for the lenders' approval of the short sale.  You can read the entire BusinessWeek article here.
5.6% of MA homes for sale are "short"
Only 5.6% of all single family home listings in Massachusetts are short sales, according to data maintained by MLSPIN, the dominant MLS in MA.

The numbers stay roughly the same if you look only at the Greater Boston metro market.  In Franklin, MA only 5.4% of all single family listings are currently "short".
Given that short sales comprise such a small percentage of all single family homes currently for sale in Greater Boston and the overall MA real estate market, the increased lender resistance to short sales reported by BusinessWeek does not seem likely to be a major problem in this state. 
Many more short sales in old mill towns
But the percentage of short sale listings gets a lot higher when you look at the economically downtrodden Massachusetts mill communities and inner city markets.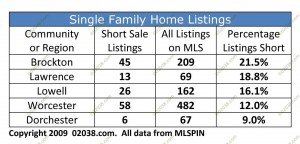 Short sales in Brockton comprise 21.5% of all active single family listings in Brockton on MLSPIN.  It's only slightly better in Lawrence (18.8%), and Lowell (16.1%) and other hard-hit markets. 
So the new mortgage lender resistance to short sales reported by BusinessWeek may become a very significant problem in the still-depressed mill town and inner city markets in the Commonwealth.
More of a problem with multi-family homes
The short sale picture is even grimmer in the MA multi-family market. 

Roughly 15% of all multi-family listings in Massachusetts are short sales on the MLSPIN system.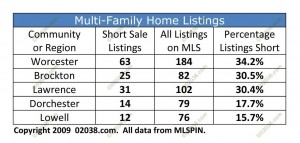 And the numbers soar into the low-to-mid 30% range in cities such as Worcester, Brockton, and Lawrence.
More foreclosures coming?
The large numbers of "upside down" home owners in these inner city markets seem primed for trouble if lenders are now tempted to obstruct their short sales as the BusinessWeek article suggests.  
If lenders refuse to cooperate with short sales in these depressed markets, more distressed MA home owners seem headed towards foreclosure.  Quite a surprise given all the recent good news about MA real estate and the Massachusetts economy in general. 
The real question may become whether the foreclosing lenders will, once their new REO properties hit the market,  net more money than they would have had they continued approving short sales in lieu of foreclosure auctions.

Copyright ©2009 02038.com