Home sales in Franklin, MA continued a strengthening trend in September 2009.  20 single family homes sold, compared to only 17 September sales in 2008.  This marked the 6th consecutive month (since April 2009) that the number of homes sold in Franklin, Massachusetts has exceeded 2008 levels.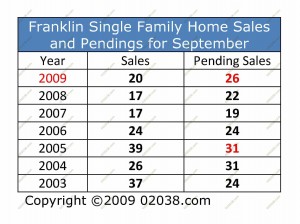 Good news continues
More good news came in pending sale totals (homes under agreement but not yet sold) for September.  The number of Franklin homes that went under agreement in September 2009 exceeded prior years' September totals going back through 2006.
26 single family homes went under agreement in Franklin, Massachusetts in September 2009. This exceeded pending home sales for September 2008 (22), 2007 (19) and 2006 (24).
Optimism on economy, home prices on a 4 month rise
September's solid home sale activity in Franklin, MA reflected a brightening outlook for the general MA economy.  
In addition, home prices in the Greater Boston metro region have risen over the last 4 months.
September's high/low Franklin home sale prices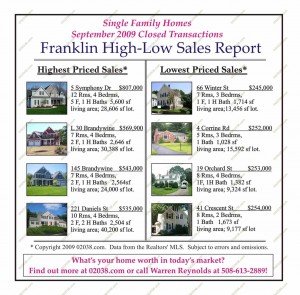 The highest-priced Franklin home sale in September was 5 Symphony Drive. At $807,000 this sale ranks as the 5th highest in Franklin for 2009 to date.
 Lower-priced homes continued to sell exceptionally well in September, spurred by the scheduled expiration on the first time home buyers' tax credit at the end of November.
Bumpy recovery ahead?
It would be foolhardy to expect an uninterrupted recovery in the Massachussetts real estate market.  However encouraging the market's performance has been since the dismal days of February, no market rebounds on a straight line.  We are sure to hit some dips in the road ahead both in terms of general market activity and home sale prices.
But it would seem clear that we in Massachusetts are now in much better shape (and face brigher futures) than many other regional real estate markets across the US.
Copyright ©2009 02038.com