Here are some tips that will help prospective home sellers decide how best to sell their homes in the next few years.  The data comes from the 2009 Profile of Home Buyers and Sellers recently released by the National Association of Realtors.
Importance of first time buyers
Nearly half (47 percent) of all recent home buyers were first-time purchasers.  The share of first-time home buyers increased from 41 percent in 2008 to a stunning 47 percent in 2009. 
Internet marketing dominates; multiple home photos a must
For more than one-third of home buyers, the first step in the home-buying process was looking online for properties.  Nine in ten home buyers in 2009 used the Internet at some point in their home search.
Internet-enabled homebuyers rated multiple home photos as being the most helpful feature of the online marketing they viewed.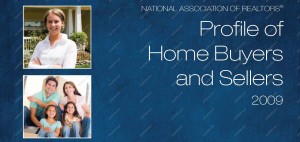 Most buyers used an agent
Significantly, 89 percent of buyers searching online used real estate agents as an information source, compared to 70 percent of the buyers who did not use the Internet.
77 percent of buyers ultimately purchased their home through a real estate agent in 2009.  Forecasts made at the start of the decade that real estate agents would be "disintermediated" by the Internet out of the average real estate transaction have proven false!
Suggestions for home marketing

So you in your marketing need to display lots of home photos.  Seek to show all the property upgrades you have made over the years.  
Many sellers would be wise to focus on first time home buyers and especially target purchasers working with agents.
Personalized marketing advice
If you are thinking of selling your home, please get back to me with any questions you have about how best to market your residential property.
I'd like the opportunity to show you what I can do for you!
Copyright ©2009 02038.com