Real estate starts 2010 on the right foot in Massachusetts (MA)
A very early reading of the 2010 Massachusetts real estate market taken in mid-January confirms the continuation of the trend towards stabilization and improved conditions that so strongly characterized the latter half of 2009. 
Inventory levels of homes for sale in MA showed improvement in January 2010, as homebuyers took advantage of low interest rates and the two Federal home buyer tax credits to purchase property faster than new MA homes for sale hit the market.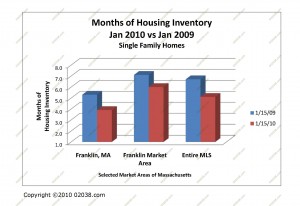 24% drop in standing inventory
The improvement was especially evident in the overall Massachusetts real estate market.  Inventory levels of single family homes for sale on the MLS system serving the entire state dropped nearly 24% in January 2010 compared to January 2009.  There were 5.1 months worth of single family homes for sale across MA in January 2010 (as opposed to 6.7 months this time last year).
Franklin, MA homes for sale in short supply
At a paltry 3.9 months supply, Franklin, MA enjoyed especially low levels of single family homes for sale in January.  The thinning of single family home inventory in Franklin became evident during the last few months of 2009, reflecting a strengthening of the local market.  Click the link to see a YouTube video on the 2009 Franklin, Massachusetts real estate market.
Franklin condo market shows improvement
The one month's results do not make a trend or constitute a reliable indicator of the future.  But January's sizable 39% decline in Franklin, MA condo inventories is nonetheless a very welcome development.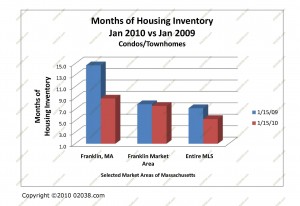 There were 8.9 months of condos for sale in Franklin in January 2010, quite a reduction from the staggering 14.7 months available this time last year.
The Franklin condo market merits close monitoring in coming months – I'll keep you updated!
What's the value of your home?
If you own a home and are thinking of selling, please contact me for a free, no obligation home value report. 
2010 is shaping up to to be the best time to sell a home in MA in the last several years – get your home value report today!

Copyright ©2010 02038.com