Mortgage rates bounced around in a narrow range during the last four weeks as interest rates in general remained low.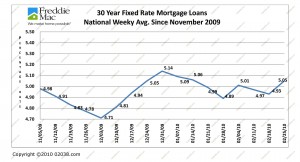 Financial troubles in Greece and Spain take upward pressure off rates
Investor worries about financial instability in Greece, Spain and other European countries helped fuel demand for the perceived safety of US Treasury debt instruments, easing any upwards pressure on short term rates.
30 year fixed rate loans hover around 5 percent
30 year fixed-rate mortgages as tracked by Freddie Mac began the month at an average of 5.01 percent and were essentially unchanged at 5.05 percent as February neared its end.
The average 30 year fixed rate loans reached a four month high of 5.14 percent last December, then trended lower.
BusinessWeek article
BusinessWeek had a good article today on the state of worldwide credit markets as of the end of February.
Copyright ©2010 02038.com