Massachusetts real estate turned in a pretty good showing during the first three months of the year, despite the record rains and widespread flooding that plagued the Commonwealth in March.
Bad weather, flooded basements slow sales and delay closings?
A series of massive storms during March 2010 created record rainfall in Massachusetts.  All the bad weather made road travel difficult and likely reduced March home selling activity in the state.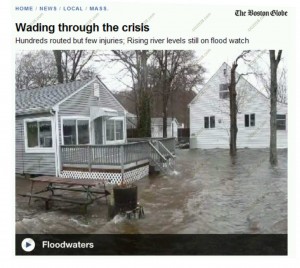 Because the majority of real estate closings come at the end of each month, the March 28 – March 30 storm that flooded basements across Massachusetts very likely triggered the postponement of a significant number of home sale closings that would otherwise have been reflected in the first quarter 2010 real estate results.
First quarter 2010 video recap of the MA real estate market
You can view a special video recap of the MA real estate market for the first quarter of 2010 by clicking the embedded video above or by clicking this link. This video was created to give you useful insights into the current state of the housing market in MA.
The video also places particular emphasis on Franklin, MA real estate activity for the quarter just ended.
So watch the video and click to find out what the current value of your home is in today's improving real estate market.
Massachusetts real estate in 2010
This blog post will highlight four important developments in the overall Massachusetts real estate market so far this year.
15% rise in MA home sales
Despite the bad weather in March, home sales recorded on the Massachusetts MLS (MLSPIN) rose over 15% for the first quarter of 2010. This was the first increase in MA home sales during the initial three months of any year since a modest 4.5% uptick back in 2007.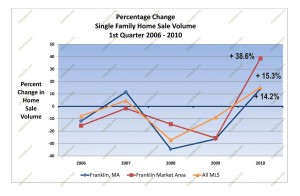 Note that we'd need to see MA homes sales continue to go up for several more quarters before declaring a pronounced real estate rebound in the Commonwealth.
Lower inventory levels
Another stat to look at when analyzing real estate activity is the amount of housing inventory; taken together with home sale volume, movement up or down in inventory levels can present an accurate picture of the current health of any real estate market.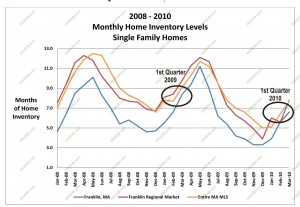 The standing inventory of homes for sale across Massachusetts has been declining for the last two years.
The decline has been steady and consistent:  there were 10.7 months of housing inventory in Massachusetts during March 2008; that declined to 9.1. months of inventory for March 2009; and there was another decline to 7.7 months' worth by March 2010.
It's an encouraging sign that first quarter home sale volume was up in Massachusetts along with the continuing absorption of housing inventory.
Days on market (DOM)
A third useful gauge of the health of a real estate market is days on market.  ("DOM" is the average number of days homes are on the market before finding a buyer.)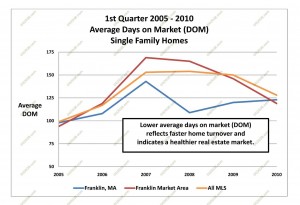 DOM in Massachusetts had risen sharply after the real estate market topped back in 2005; this meant that asking prices were meeting pronounced resistance from home buyers.
Succeeding years had seen first quarter DOM in MA plateau at approximately 150 days. That it was taking five months to sell a home was a sign of a buyer's market in Massachusetts.
This year we finally saw improvement in DOM in Massachusetts. 
First quarter DOM for all of Massachusetts fell to 128; let's hope that becomes a continuing trend for the rest of 2010.
Mixed picture on home prices
The median sale price of single family homes in Massachusetts went up in the first quarter of 2010 for the first time in years.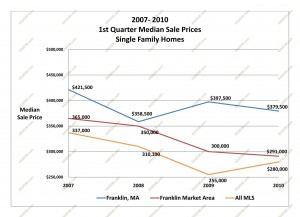 According to data maintained by MLSPIN, Massachusetts' median sale price rose 9.8% to $280,000 for the first quarter of 2010 (up from $255,000 the prior year).
You'll note that median prices for Franklin and the regional market around Franklin declined, so the price picture was mixed during the first three months of 2010.
Home prices tend to be a lagging market indicator, so perhaps you get a more accurate reading on the 2010 MA real estate market by focusing more on the past quarter's increased home sale volume and lower home inventory and DOM figures.
More reasons for optimism
The Boston Globe recently announced the end of the recession in Massachusetts. 
Recent economic reports indicate that the national economy also is swinging into recovery mode.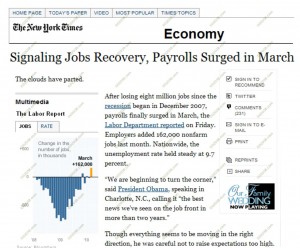 Job creation and a growing economy are keys to the long term health of any real estate market.
So while the Massachusetts real estate market is not yet fully out of the woods, there are enough signs of recovery and rebirth to justify belief in better times ahead for us all!
Copyright ©2010 02038.com