Back at the start of the year, there was widespread alarm in the media that mortgage interest rates were poised to rise steeply in early 2010. Despite the dire predictions from many financial experts, rates today remain near record lows.
Don't rely on the experts for your near-term plans
That goes to show that it's risky to base your near-term decision-making solely on the forecasts of experts.  
There are a lot of smart people working in the world of finance and investing.  But as we've seen so recently with the world-wide financial crises, they're only human and people make mistakes.
No one knows for sure what interest rates will do
Here's just one example of the foreboding interest rate prognostications being made by respected money experts early this year: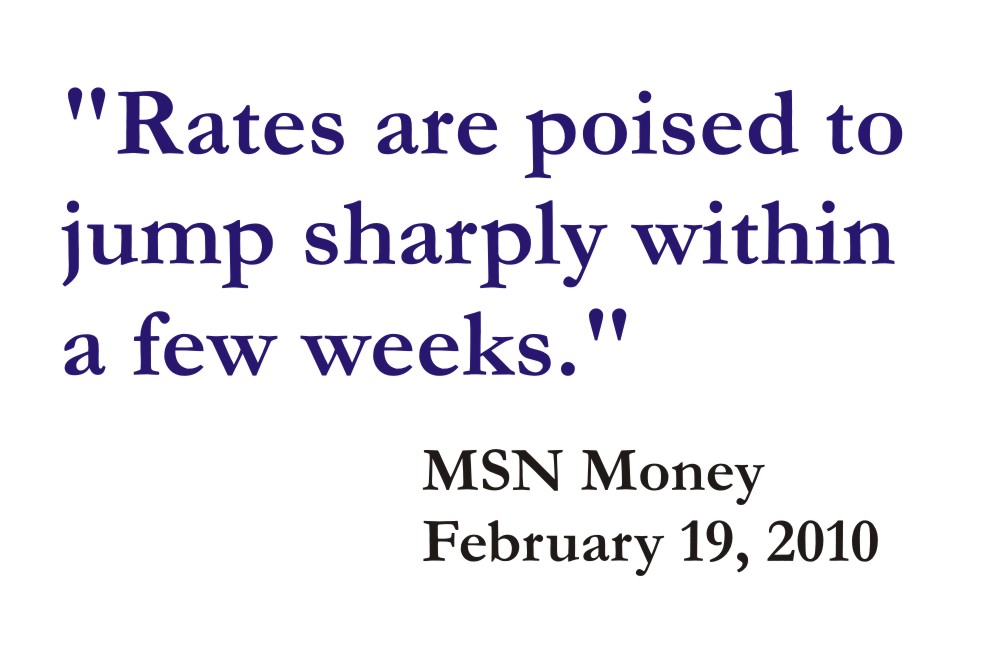 And here's what rates actually have done so far in 2010:
Volatility in a very narrow range
In reality you could say that the alarmist financial prognosticators got it somewhat right: 30 year fixed mortgage rates in the US as tracked by Freddie Mac did rise from roughly 4.9% in February 2010 to about 5.2% in early April.
But a 30 basis point rise is not exactly a steep, devastating jump.
Mortgage rates near record lows
And after that, 30 year mortgage rates fell right back to roughly 4.9%.
So in mid-May we have interest rate status quo so far this year: mortgage rates have jumped around a bit in 2010, but only in a narrow range. 
Today, mortgage rates remain at near-record lows . . . right where they were at the start of the year.
No one knows the future
For your long-term investment and financial plans, it's smart to rely on expert advice. 
There are wonderful books and plenty of reliable resources on money and investing that will serve you well in the long run.
Just don't listen to the pundits on the morning news and on blog posts who make frightening predictions about the near-term direction of  interest rates and the markets.  They may mean well, but they're often proved wrong by what really ends up happening!
Copyright ©2010 02038.com