Greater Boston home prices rose a solid 1.4% in April 2010, according to figures released today by Standard and Poors.  The jump in the S&P/Case-Shiller Home Price Index for Boston marked the first time in eight months that metro Boston home prices moved upwards.  April 2010 is the most recent monthly home price reading available from S&P.
Boston real estate market forming bottom?
April's home price rise is significant because it may mark the formation of a home price bottom in the Greater Boston, Massachusetts real estate market.
The price increase was a bit overdue based on past years' price patterns and may have been delayed because of March's protracted bad weather.
As you can see in the chart below, Boston home prices have shown a strikingly consistent seasonal pattern of home price slumps and recoveries since 2001.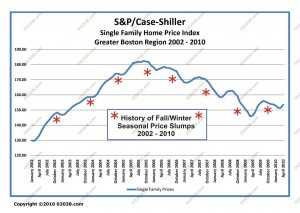 Ever higher Boston home prices during boom
When the market was on the upswing in the first half of the last decade, metro Boston, MA home prices peaked every spring/summer at ever-higher levels.
Each year, the fall/winter slumps were minor and each trough was higher than the prior years' low point.
Ever lower prices during bust
During the real estate bust that took place in the second half of the last decade, the exact opposite behavior was exhibited by the Boston regional market: the annual spring/summer price increases were anemic and short-lived, while severe fall/winter price slumps kept Greater Boston home prices trending markedly lower every year.
Encouraging market performance 2009 – 2010
The chart below shows a clear improvement in the performance of the Boston, Massachusetts real estate market over the past year.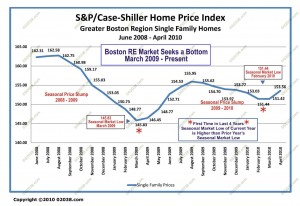 The seasonal home price slump of 2009 – 2010 was much less severe than during the worst of the market decline.
And for the first time in 4 years, the low point of the most recent seasonal market slump was HIGHER than the low reached the prior year.
This may mean that the metro Boston, MA real estate market is finding a bottom.
Caution is needed
Caution is called for; it is way too early to definitively call the bottom of the current real estate market cycle in Massachusetts.
The recently expired Federal home buyer tax credits had a beneficial impact on the April 2010 market.
It may take a full year or even two before MA home prices are clearly on the mend.
At least we have more evidence pointing to the beginning of the formation of that much-looked for home price bottom in Massachusetts.
Keep tuned for future updates!
Copyright ©2010 02038.com