Looking for tips on what to do with your trash and recyclables  with the  new automated collection system in Franklin, MA?  Here are some helpful dos and dont's.
Handling your trash
The new system is called "single-stream recycling and automated trash pick-up".
You have two collection carts, one for trash and the other for recyclables.
Before putting trash into the trash cart (the one with the black lid), put the items into plastic bags and twist tie/seal each bag securely.
Do not over-fill the trash cart.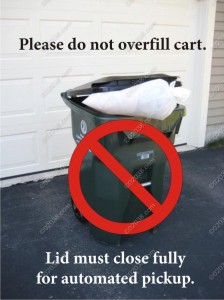 Do not let any bagged trash or other disposable items stick up out of cart.  The lid must fully close for automated pickup process to function smoothly.
What to do with over-flow items
If you have excess trash that will not fit into the trash cart, buy "overflow" 33 gallon plastic bags from the Franklin Department of Public Works.  These special bags can be left near the trash cart (at least 3 feet away) for pickup.
Except for excess trash placed in the overflow 33 gallon plastic bags on sale on the Franklin DPW, please do not leave any trash or disposable items outside of the trash cart.   Such items will not be collected.
Cart placement
There were some awkward moments last Friday as the collection vehicles made their first runs through Franklin neighborhoods.
At many homes, the two carts were placed too close together.   The mechanical pickup arm banged into the adjacent cart as it attempted to grab one cart.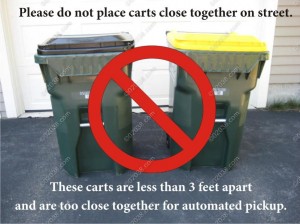 Some carts were left too close to mail boxes and utility poles.  One time, low-hanging tree limbs impeded the functioning of the collection arm.
Here's a video of the new collection system in operation in Franklin, Massachusetts:
Quoting from The Franklin DPW's guide to the new collection system regarding cart placement:
"The collection vehicle's lifting arm requires clearance: 3 feet on both sides, and 12 feet overhead. The cart should be no more than 3 feet away from the curb or road edge, and the arrows on the lid must be pointing toward the street. Please leave 3 feet between your recycling and trash container when placing them curbside."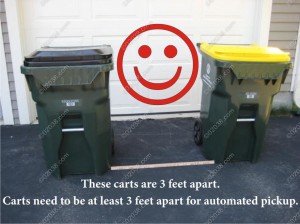 Guidelines for recycling
There is a lot of help provided on Franklin, MA's website concerning how to maximize your recycling.
Below is an excerpt from the DPW's recycling guidelines: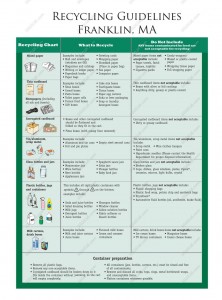 The new single-stream recycling and automated trash pick-up will take some getting used to.
But it is designed to help reduce trash collection costs for Franklin, Massachusetts and that will help us all!
Copyright ©2010 02038.com