Home sales in Massachusetts fell 31.7% in July 2010 from year ago levels according to data maintained by MLSPIN, the largest MLS in the state.  Pending sales in MA also fell dramatically last month (-20%) compared to July 2009.
Worst July in years
The 31.7% drop in sales and 20% falloff in pendings across the state makes last month the worst-performing July for many years in Massachusetts.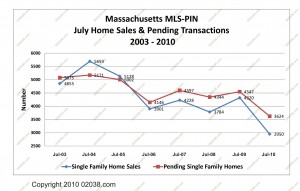 Results no better in Franklin, MA
July was no kinder to real estate in the Town of Franklin, Massachusetts as home sales fell a whopping 45.7% from July of last year.
Pending home sales in Franklin also swooned, dropping 30%.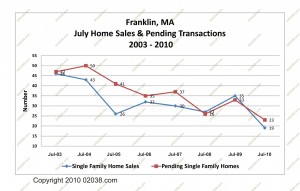 What's going on with MA real estate?
A drop-off in home sales and pendings in MA was to be expected after the expiration of the two Federal home buyer tax credits.
The tax credits worked to accelerate home buyer decision-making in 2010.  The credits effectively pulled sales into the spring home selling season that would otherwise have been made in the second half of this year.
July home sale prices in Franklin muted
Here 's how the real estate market looked in Franklin, MA during July 2010; note how relatively modest the four highest-priced home sales in Franklin were: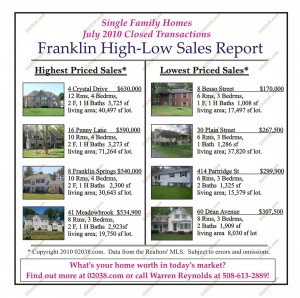 MA Home sellers should heed warnings from market

The large drop in sales and pendings in July was dramatic and should stand as a warning to Massachusetts home sellers for the foreseeable future: don't expect to command the selling price for your home.
Home sellers cannot assume there will be an ever-larger pool of buyers for every property – there are a lot of homes out there competing for buyers.
Lack of inflationary expectations means home buyers are being very picky now that the Federal home buyer tax credits are history.  With home prices not predicted to rise sharply in the near term, buyers do not want to make a mistake in the home they buy.
Home prices still high in MA
Home prices remain high in Massachusetts, so you the home seller do stand to sell your property for a considerable sum.
But you might be wise to reconcile yourself to the probability that you may not get your absolute top dollar dream price.
Home sellers with a rigid, unrealistic  "needed money figure" face rejection and frustration in this market.
Instead treat good offers from serious buyers very seriously.
Home sellers in this market win when they grab a good buyer willing to pay a good (not to say the best) price for their home.
Copyright ©2010 02038.com