The supply of single family homes for sale in Massachusetts rose modestly this month, a move that might reflect lingering weakness in the MA real estate market since the expiration of the Federal home buyer tax credit.  According to data maintained by MLSPIN, there were 7.9  months of homes for sale in MA in August, 2010 compared to the 7.8 months of supply carried in the Commonwealth this time last year.
It was a similar story in the Town of Franklin, MA where single family home inventory also rose a bit in August (to 6.5 months of supply), but remained significantly lower than statewide levels.
The regional market surrounding Franklin bucked the trend, experiencing a 20% decline in single family home supply this August (to 7.6 months from 9.5 months last year at this time).
July 2010 a dismal month for MA real estate
July 2010 was a particularly feeble month in Massachusetts for both home sales and pendings (homes placed under agreement but not yet sold).
The dismal performance materially contributed to August's uptick in inventory supply numbers.
Fall home selling season traditionally strong in MA
We are now heading into the pivotal Fall home selling season in MA.
The fall usually is the second best time of year to sell a home in Massachusetts, coming as it does after the summer vacation doldrums and before focus shifts to the Holidays.   (The spring is the # 1 home selling season in MA).
Fall's performance will foretell 2011 market
Those seeking to forecast the direction of the 2011 real estate market will want to pay careful attention to home sale figures and inventory levels over the next few months.
If this fall extends July's home sale weakness, we will likely see a pronounced rise in home inventories in Massachusetts.  And 2011 may be weaker than many expect.
On the other hand, if home sales rebound during the 2010 Fall home selling season, August's uptick in home inventories will have been an aberration and we may be able to look forward to a strong 2011 real estate market in Massachusetts.
Condo inventory figures better
The supply of condominiums and townhomes in Massachusetts continued to decline this month compared to year ago levels.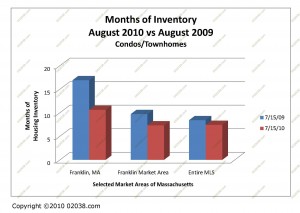 This trend may not be very significant as it reflects the absorption of excess inventory of age-restricted units (sales limited to owners age 55+).
There has been an oversupply of age 55+ condos in Massachusetts, a situation that has been especially pronounced  in the Town of Franklin, MA over the past few years.
Copyright ©2010 02038.com