July saw yet another increase in Greater Boston home prices. This is the fourth consecutive month that single family residential home values in the metro Boston area have risen.
Modest rise
Standard and Poors released its Case-Shiller Index for metro Boston today showing a 0.6% uptick in Boston home prices during July.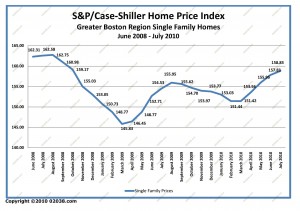 The Index publishes monthly with a 2 month lag; July is the most recent month reported on by the S&P Case-Shiller Index.
Boston area home prices are now nearly 9% higher than their 7 year low set back in March 2009.
Home sales down in July and August
Despite the recent MA home price rises, home sale volume in Massachusetts fell in July and August.
Blame that weakness on the end of the Federal home buyer tax credit earlier this year.
Sales data for September will be released soon – stayed tuned!
Copyright ©2010 02038.com