The Friends of the Franklin Library will hold its semi-annual book sale Saturday, October 16 from 9:00 AM to 4:00pm. The sale takes place at the Franklin Department of Public Works (DPW) Garage on Public Works Way off Hayward St. in Franklin, MA.  This is an event not to be missed!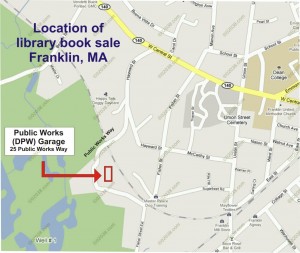 Fun way to save money and help Franklin MA Library
You'll be able to browse literally thousands of hard and soft cover books in a broad range of topics. With really low prices and a great selection, there's sure to be a book (or many more) for just about everyone!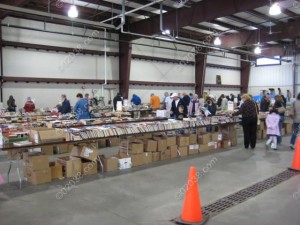 Good books and videos – cheap!
At previous book sales, the majority of hard cover books were just one dollar.  Adult paperbacks have sold for 50 cents.
Most children's and young adult books were 50 cents. (You can save a lot of money buying a load of children's books here!)
There are often lots of videotapes, cassettes, CDs, DVDs, audio books and games for sale as well.  At a recent book sale, I got a complete 8 video set of the PBS classic "I, Claudius" for $8!
Sunday Oct 17 – $5 for a bag of books
The deals get even better Sunday, October 17!  You'll be able to buy a bag of books for just $5.
The Friends of the Franklin Library book sales are great fun and money saving – and you are helping support the Franklin Public Library in Franklin, Massachusetts!
Donate your unwanted books
If you have used books, DVDs, etc. that you don't know what to do with, please consider donating them to the Friends of the Franklin Public Library.
You can bring them to the easy, convenient donation drop-off area on the first floor of the Franklin Public Library.
If you live in Franklin and have a load of books and videos you'd like to donate but can't handle it yourself, please contact Warren Reynolds – he'll help you get your items to the Friends.
Copyright ©2010 02038.com