If you're thinking of buying a home or refinancing your current mortgage, you may have a once in a lifetime opportunity!  30 year fixed rate mortgages have reached shockingly new lows.  Mortgage rates are so low now that they may justify your taking on mortgage debt in a strategic move to lock in today's minuscule rates for years to come.
Short term view of mortgage rates misleading
The recent decline in mortgage rates does not look so dramatic when viewed over the short term: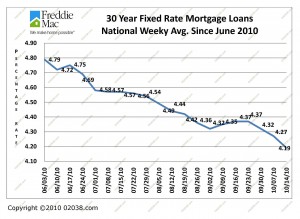 Rate drop compelling when put in context
But take a longer term view of mortgage rates and you'll immediate see why today's rates deserve careful consideration on a strategic level: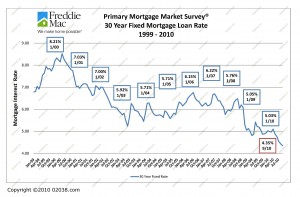 From 2003 through 2008, mortgage rates stayed in a narrow range of approximately 5.7% – 6.25%
Towards the end of 2008, mortgage rates began their historic decline as the economy flirted with a catastrophic new depression.
30 year fixed rate mortgages  broke decisively below 6% in November 2008 and stood at 5.05% in January 2009.  Over a 17% drop in mortgage rates in just two months!
New round of declines
It wasn't until recently that mortgage rates moved markedly lower.  It is this new round of mortgage rate declines that creates the real opportunity available to you today.
According to Freddie Mac, the average rate for a 30 year fixed rate mortgage loan stood at 5.1% in April, 2010.  When the two Federal home buyer tax credits expired at the end of April, demand for homes hid the skids and mortgage rates turned lower as well.
The average rate for a 30 year mortgage hit 4.35% last September and now stands today at only 4.19%, another 17% drop in mortgage rates since last April!
First time home buyers
If you are looking at buying your first home, the recent collapse in mortgage rates makes buying a home this fall seem especially compelling.  Strategically, now appears to be a golden opportunity for you to buy a home at a ridiculously low mortgage rate.
The mistake to avoid is to assume that mortgage rates will remain low for months to come.  They may well do that, but rates do tend to move quickly with new economic data.
There are signs the national economy is getting better.  A mortgage rate spike in coming months is not out of the question.
So look at the strategic opportunity to buy a home this fall and get a 30 year mortgage at a previously unheard of low rate.
Home owners with equity
If you currently own a home with appreciable equity, you might want to consider borrowing more on the home.
I know this may sound risky.  This is certainly not a move that anyone should take without careful consideration.
But on a very elemental level it makes sense to at least look at increasing your mortgage debt at a time of historically low mortgage interest rates.  This seems especially valid if you would use the newly borrowed funds to pay off credit card balances, car loans or other high-rate debts you owe.
Obviously, a financial and tax adviser would be able to help you decide whether this is right for you, but pulling some of equity out of your property at today's historically low mortgage rates seems attractive if your employment status is stable.
Copyright ©2010 02038.com