Home sales in Massachusetts were anemic in November, mirroring weak real estate activity across the US.  CNNMoney.com recently announced that today's lagging home sales, attractive home prices and historically low mortgage rates present prospective buyers with "some of the best home-buying conditions in years."
As you'll read below, some local buyers acted in November to buy homes, striking deals and securing good bargains.
However, the challenge for other motivated home buyers today is to gather the courage to grab that smart home purchase now while so many other would-be buyers tarry on the sidelines, stalled either by uncertainty or the likely unrealistic hope for further significant declines in Massachusetts home prices.
Home sales down across the Commonwealth
Home sales last month in Massachusetts were down 34.8% from year ago levels.  At least pending sales did not drop too much off last year's pace.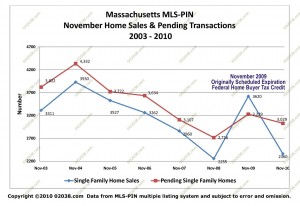 Note that home sales in November 2009 were boosted by the Federal home buyer tax credit, making current market activity appear that much worse in comparison.
Buyers were in a rush last November to buy homes because November 30, 2009 was the original expiration date scheduled for the hugely popular Federal home buyer tax credit program.  (It turned out that Congress at the last minute prevented that expiration by expanding the home buyer tax credit into two separate tax credit programs and extending both to April 30, 2010.)
Almost as bad as November 2008
However, home sales throughout Massachusetts in November 2010 were only slightly above the abysmal sales results for November 2008.  Home sales were especially depressed 2 years ago during the height of the worldwide financial panic.
Same story in Franklin, MA
Conditions last month were no better in the Town of Franklin, Massachusetts.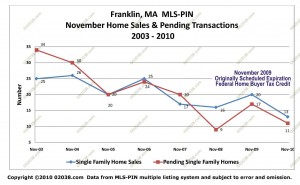 Franklin suffered the worst monthly single family home sales results for any November going back as far as 2003.  Pending sales in Franklin for November were only marginally above 2008 levels.
Uncertainty caused by mixed economic conditions to blame?
The deep slump in November homes sales took place against a backdrop of mixed economic developments during the month just past:
The US economy added fewer jobs in November than expected, it was announced today.
But November US retail sales were up.
And both GM and Ford announced strong gains in November US car sales.
So while the economy is growing, there is persistent weakness in overall job creation, which makes it hard for many would-be US home buyers to commit to that home purchase they've been planning.
CNNMoney.com declares "best home-buying conditions in years"
The reluctance by tire-kicking home buyers to actually undertake a home purchase lies at the heart of why CNNMoney.com is saying now is the perfect time to buy a home.
Home buyer diffidence in the face of economic uncertainty is contributing to the current weakness in home sales and the recent decline in MA home prices.
But it is precisely the low home sale volume and sagging home prices that, when coupled with very low mortgage rates, are presenting home buyers with such a great opportunity to score a good deal on a home now.
Motivated buyers acting now
Indeed, some smart buyers were making offers last month, taking advantage of the intensely pro-buyer market conditions.

As you may know, I am a real estate agent in Franklin, MA.
I personally had a solid November, putting four homes under agreement and earning me my office's "Agent of the Month" award for the fourth time this year.
So if you are thinking of buying a home, you want to be a contrarian like my four clients this November: buy when others are not buying and you will be in position to capitalize on the current market weakness – it won't last forever!
Copyright ©2010 02038.com