The Franklin Crossing Condominiums in Franklin, Massachusetts were built in 1985. The garden-style condo units were constructed in a series of clustered buildings.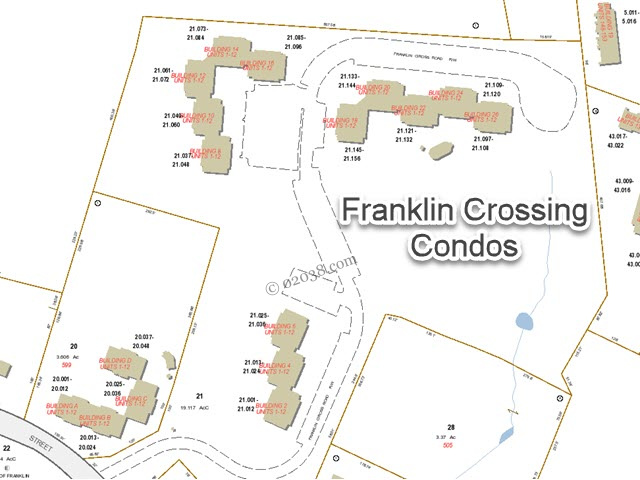 160 Units in attractive setting
There are just over 160 condos in the community. All are one-level units with central air. The homes are mostly two bedroom units. There are a number of one bedroom homes and a few three bedroom floor plans. Unit sizes range from roughly 725 sq ft to just over 1,100 sq ft.
Video drive-through
Here's a video showing the exterior of the units and the community grounds of these condos in Franklin, MA:
Kitchens and baths
The pricing of homes at Franklin Crossing vary by the degree of updating to the homes' kitchens and baths.
Some Franklin Crossing units still retain the original circa-1985 laminate cabinets and counters in their kitchens. These units will sell at a discount to the homes that have updated kitchens.
As with the kitchens, condos at Franklin Crossing vary in terms of the updating done to the units' bathrooms. The majority by now have received updating to their baths. Occasionally, Franklin Crossing condos are listed with original 1985 bathrooms.
Contact Warren Reynolds for answers to your questions about the Highwood Condos in Franklin, MA and to tour homes for sale there!
Copyright © 02038.com