While both December and January saw increased home sales in Massachusetts, the inventory of homes for sale in MA rose in February as home buyers fought cold temperatures and deep snow to keep the Massachusetts real estate market moving forward.
Don't read too much into inventory rise
The supply of available homes in MA this month climbed 17% to 7.5 months, compared to 6.4 months one year ago. Inventories rose sharply also in the Greater Franklin region and the Town of Franklin, MA itself.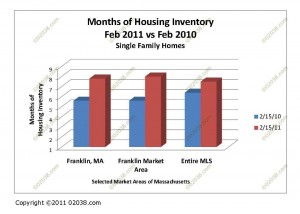 Such a big spike in supply might be worrisome.
But considering how bad the weather has been over the last 2 months, the Massachusetts real estate market has been performing pretty well.
Ice and snow did not help
Starting in December and continuing unabated into mid-February, storm after storm hit New England, choking roads and sidewalks with feet of snow.
As glittering icicles and ice dams sprouted on many homes and some roofs caved in from the weight of the snow, the cold temperatures and deep snow made it hard for home buyers to physically get into homes, much less purchase them!
Last February very active due to tax credits
There's another factor lessening the significance of February's increase in housing inventory over year-ago levels: market activity last February was artificially buoyed by the two Federal home buyer tax credits.
Buyers were very active buying homes back then in order to qualify for one of the credits.
So comparing housing inventories this month to the supply of available homes back in February 2010 does come with a pretty significant caveat.
Current market doing OK with better times ahead
After accounting for the artificially stimulated market last February and considering all the abysmal weather we've had, this February's inventory stats look a lot better.
Especially when you remember just how bad the economy was 2 years ago in February 2009, market conditions this February are relatively upbeat!
The sun is getting noticeably stronger now, so we have warmer, longer days ahead – I think everyone in MA is looking forward to a sustained snow melt-off, an early spring, and a continually improving real estate market!
Copyright ©2011 02038.com