The Town of Franklin, MA enjoyed moderate population growth of just over 7% in the first decade of the 21st century, according to figures published last week by the Office of the Secretary of the Commonwealth of Massachusetts. This marks a decided slowdown in the rate of growth for Franklin, compared to what the community had been experiencing during last two decades of the 20th century.
Growth rate compares well to other towns in local area
Drawing on newly released 2010 Census data, the Secretary's office reported that Franklin grew by 2,075 people (to 31,635 from 29,560) during the last decade.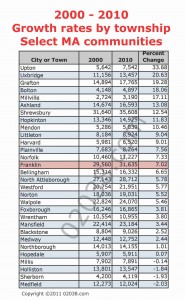 This 7.02% growth rate places Franklin, on a percentage basis, ahead of such other prime communities in the central/south I-495 region as Medway, Mansfield, Wrentham and Foxboro.
But population growth in Franklin was decisively out-paced over the last 10 years by such high-growth towns as Upton, Uxbridge and Grafton, which are more rural and lie to the west of the I-495 high tech corridor.
However, even more developed towns to the east of I-495 such as Hopkinton and Ashland grew more quickly than Franklin over the past 10 years.
Markedly slower growth than in previous decades
Population in Franklin, MA had been increasing at a torrid pace in the 1980s (+ 28.3%) and 1990s (+33.8%). Franklin ranked as one of the top growth towns in all of Massachusetts during the 1990s.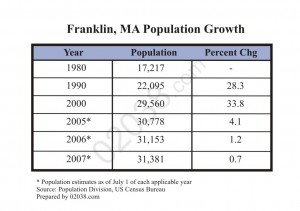 But a building moratorium imposed by Franklin in the early years of the new millennium drastically slowed residential construction in town.  This stemmed any further sharp rise in population for the decade just ended.
By the mid-2000s however, the moratorium was lifted and construction in Franklin resumed, including many high-end condominium projects for active adults.
Population outlook for 2011-2020
An article that appears today in the Boston Globe and on Boston.com casts a basically upbeat light on current population trends in the greater Boston area and for Massachusetts as a whole.
Demographers quoted by the Globe in that article said that Massachusetts' growth rate has been buoyed recently by an influx of minorities and young, highly skilled workers.  These groups were attracted to MA by lower home prices and the high quality life offered by the Bay State.
The relatively strong Massachusets economy should help us continue to grow moderately as we progress further into the second decade of the 21st century.
Copyright ©2011 02038.com