Mortgage rates are supposed to rise in 2011, according to the general consensus of the finance industry at the start of the year.  But here we are more than a quarter of the way through the year and interest rates remain essentially unchanged.
Does anyone really know where rates are headed?
We've seen recent predictions of higher mortgage rates turn out dead wrong.
Last year at this time the news media advised us to 'lock in mortgage loan rates now' amidst warnings that there was serious 'trouble ahead' for housing and the economy when rates rose later on in 2010.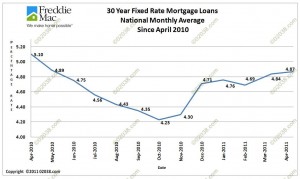 But rates did not go up in 2010; they actually fell instead for most of the second half of the year.  And rates do not appear poised for a run-up any time soon in this year either.
So why the discrepancy between interest rate forecasts and reality?
The case for higher rates seems to make sense
The rationale behind the predictions of higher rates makes a lot of sense on paper.  Rates have been historically low for a very long time now. The U.S. has borrowed trillions of dollars over the last two years.   With announcements today that the economy is doing better and job openings are becoming more plentiful, there should be upward pressure on interest rates.
Yet on the same day that the above upbeat economic data was released, bond yields actually fell.  The bond market focused instead on President's Obama's announcement of his plan to reduce future Federal borrowing.
There may be forces at work keeping interest rates low that have not yet been recognized by financial experts.
Forecasts just guesses?
That may be part of the reason why so many predictions over the last few years about the future direction of interest rates have proved inaccurate.  While the mortgage experts quoted in the news are sincere and mean well with their interest rate projections, we've seen again and again that no one really knows for sure what the future holds for rates.
With interest rates having been so low for so long now, they will likely rise at some point in the future.  But estimating when and by how much rates will rise remains pure guesswork.
The bottom line for anyone making purchase or investment decisions: don't base your behavior on the day's headlines.
Act prudently to take advantages of what opportunities are available to you now.  Do what makes financial sense for your future and don't worry about what you can't control.
Recent predictions about rates in 2011
Here are some of the better articles I found on where interest rates may be headed in 2011:
http://mortgage-x.com/general/rate_trend.asp
http://fha-interest-rate.com/2011/03/fha-mortgage-rate-predictions-irrelevant/
http://www.bankrate.com/finance/mortgages/mortgage-rate-trend-index8-162143-1.aspx
http://www.dailymortgagereport.com/2010/12/housing-mortgage-predictions-2011/
Copyright ©2011 02038.com