You might have missed recent news reports detailing positive developments in the Massachusetts economy. This good news has been easy to miss because so much of the news media's focus over the past few weeks has been on the royal wedding, the death of Osama Bin Laden and continued gloomy reports on the US housing market.
The encouraging local economic trends may have been easily overlooked, but they provide good reason for you to feel optimistic about your financial future in Massachusetts.
Dow up 80% from 2009 lows
Back at the absolute stock market lows of November 2008 – March 2009, there was lots of panic selling by retirees and those nearing retirement who "couldn't afford lose it all."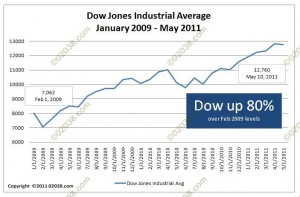 Think of how many of those people must be suffering severe regrets now that the Dow is up so much. And think of how good you'd be feeling today if you had bought stock in February or March 2009!
The rising stock market may be signaling better times ahead for the U.S. economy – such strong stock market rises often do.
Stock profits raising Massachusetts tax receipts
Surging stock prices and an improving local economy have led to a big rise in tax receipts for Massachusetts this year.

Quoting from the news report:
"In a sign of the growing economy, state Revenue Commissioner Navjeet K. Bal on Tuesday announced that for the fiscal year to date, tax collections total $16.860 billion, up $1.927 billion, or 12.9 percent, from last year, and $732 million more than projections."
MA economy growing at twice the national rate
The Bay State economy is picking up steam in 2011. More business activity should start helping the local job market, further bolstering tax receipts and consumer spending.
Below are excerpts from several reports on this: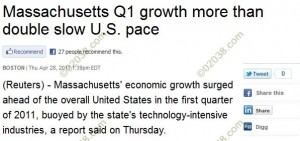 "Massachusetts' economic growth surged ahead of the overall United States in the first quarter of 2011, buoyed by the state's technology-intensive industries, a report said on Thursday. The real gross state product grew at an annual estimated rate of 4.2 percent, more than double the national economy's expansion of 1.8 percent, said the study by MassBenchmarks, a quarterly journal published by the University of Massachusetts."

"A new report says the Massachusetts economy expanded more than twice as fast as the nation's as a whole in the first quarter of the year, driven largely by the technology sector.
The University of Massachusetts report released Thursday said global demand for technology products and increased business spending on software and equipment have provided a boost for the state."

"This past month, the University of Massachusetts' MassBenchmarks journal showed the Bay State is doing very well, thank you, as it ships its tech wares across the globe, including various software and equipment. The state's so-called "growth premium," says the journal, "appears largely to be a function of the strength of the Massachusetts innovation economy that, unlike in recent recessions, helped buffer Massachusetts from the 'Great Recession' and has been a growing driver during the recovery period."
MA business confidence rises
Confidence among MA businesses has risen to its highest level since 2007, reflecting improving conditions in the Bay State.

Quoting from the article:
"Associated Industries of Massachusetts Business Confidence Index was 56.1 points in April, up 2.1 points from 54 points in March. Associated Industries plots business confidence on a scale of 1 to 100 where 50 is neutral and anything greater than 50 is positive."
Putting this all together – time to invest?
The good economic news should perhaps spur you to consider smart contrarian investing to take advantage of the pessimistic sentiment about real estate so prevalent during these times of continued uncertainty.
Contrarian investing is a time-honored way to build investment profits by buying when negativity predominates and selling when others are overly enthusiastic about buying.
Take the stock market: the time to buy was February and March 2009 when everyone was saying "sell", the Dow was at its lows and pessimism was rampant.
Stocks have had a such a strong run-up, so instead of chasing stocks, look at real estate in MA while the market is still weak.
MA home prices certainly are down. And the local economy is continuing to improve.
How about buying an inexpensive condo or multi-family home as an investment property? If you're not ready to be a landlord, perhaps now's a good time to trade up to a better home.
Contact Warren to learn more!
Copyright ©2011 02038.com