Greater Boston home prices took a tumble in the most recent release of the S&P/Case-Shiller Home Price Index. The decline in Boston home prices is encouraging news for those skeptical local home buyers who continue to sit on the fence this spring hoping for lower Boston home values ahead.
2 versions of the Case-Shiller Index
There are two versions of the Case-Shiller Index published each month.
One version does not account for seasonal variations in Massachusetts home prices. The other version is seasonally adjusted and seeks to remove seasonal price distortions which are pretty pronounced in Massachusetts due to the tough winter climate. Each is published with a two month lag; February is currently the most recent reporting period available for the Index.
Unadjusted Index looks scary, but is distorted
Using the unadjusted Index, the Greater Boston numbers look bad.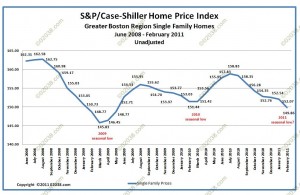 February saw the eighth straight monthly decline in Greater Boston home prices as tracked by Case-Shiller. The unadjusted Boston Index now has surrendered all its gains of 2010. At 149.86 the Index is at its lowest reading since June 2009.
But as we have noted before and as is clearly demonstrated on the chart, the unadjusted Index for Boston suffers from strong seasonal distortions.
There is a pronounced pattern in the unadjusted Index: every year the Boston Index declines in the fall into the late winter. And in the early spring into the late summer, the unadjusted Index rises.
Seasonally adjusted Index down as well
The seasonally adjusted Case-Shiller Index for Boston generally gives a more accurate picture of Greater Boston home prices.
However, even with the seasonal variations stripped out of the data, the Index for February still showed a decline in Greater Boston home prices.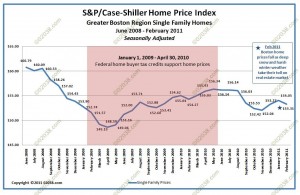 Bear in mind that February did feature horrible winter weather with heavy snow and ice storms. The bad weather did adversely affect home sales.
So we may want to withhold making any firm judgments regarding Greater Boston home prices until the results for March and April are in the books. Given the two month lag in producing the Case-Shiller Index, we will have to wait until June to get a firm fix on spring 2011 Massachusetts home prices.
What to do this spring – for sellers
No matter what upcoming Index readings may look like, one thing is clear: this spring is not shaping up to be a strong sellers' market.
Properly priced homes are selling, and some are selling rapidly.
But over-priced homes in the Greater Boston region face a decidedly difficult outlook given what appears to be at least a temporary downwards bias in local home values.
CNN-Money has a good article on how to sell your home in this adverse market:
The article advises home sellers whose homes have sat unsold on the market for over 30 days to bite the bullet and drop their asking prices to make their homes compelling.
What to do this spring – for buyers

You make your luck only when you act.
The bottom line is that home buyers should be able to strike advantageous deals over the next few months.
Timing is everything, so if the time is right for you to buy – act!
Today's smart buyers may want to lock in currently low mortgage rates and grab one of today's good homes that are available at some very good prices.
Copyright ©2011 02038.com