The Massachusetts unemployment rate continued its year-long decline in September, falling to 7.3 percent last month.   The Massachusetts Executive Office of Labor and Workforce announced late last week that unemployment across the Bay State is now the lowest it has been since the start of 2009.  The agency said that 43,800 private sector jobs have been added in MA this year.
Regional  markets even better
As set forth in a separate report issued recently by The MetroWest Economic Research Center at Framingham State College (MERC), the employment picture is even better in many regions to the west of Boston in the greater I-495 area.  The MERC report covers employment rates as of August 2011: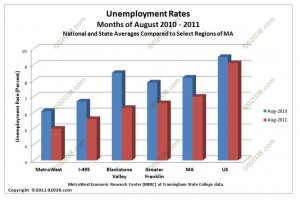 The MetroWest region especially stands out with an impressive unemployment rate of 5 percent in August.  That's nearly half the national rate.
Employment has improved dramatically over the last 12 months in all I-495 regions tracked by MERC.
Long-term unemployed still face challenges
Despite the drop in Massachusetts unemployment this year, there is still a lot of pain and frustration among MA job seekers.
Those who lack skills that are in demand and those who have been out of work for an extended period face still serious difficulties finding work.
Job sectors doing especially well in MA
As shown in the chart below, the professional, scientific and business services sector in Massachusetts has done every well this year, adding nearly 16,000 jobs through August.

Coming in second with over 13,000 jobs created in so far in 2011 is the education and health services.  Only the government job sector has suffered significant net losses in MA during 2011, MERC reports.
Improving jobs outlook and low interest rates should help local real estate

Times remain tough for many in Massachusetts.  However it is clear that the Commonwealth as a whole, and the Greater I-495 area in particular, are doing much better in terms of employment than the US average.
As the MA economy adds jobs, consumer confidence and discretionary spending should strengthen in coming months.
Improving economic conditions coupled with The Fed's recent commitment to keep interest rates historically low int0 2013 should help the Massachusetts housing market in 2012.
The time to buy MA real estate is now!
Copyright ©2011 02038.com