It was tempting to put a provocative headline to this post along the lines of "Boston home prices soar 2.5% in one month!" or "Does the 2.5% jump in Boston home prices mean you've missed the housing market bottom?"
Misleading headlines a disservice
Such inflammatory headlines would garner attention but would be deceptive and a disservice to you. Yes, there was a large jump in home prices recorded in June by the S&P/Case-Shiller Home Price Index for Boston. But statistics can be misleading and in this case the huge spike in June prices does not accurately depict the current direction of home values in the Bay State  . . . at least not yet!
2.5% leap in Boston home prices in one month
In a report issued last week by Standard and Poors, the Case-Shiller Home Price Index for Boston rose to 154.43 in June 2012.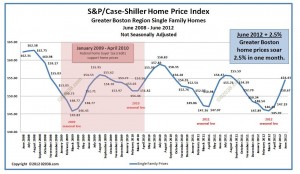 That's a whopping 2.5% increase over the 150.67 reading on the Index for the prior month.  At face value, the increase seems decisive evidence of a rebound in MA home values.
Unadjusted home prices ebb and flow with the seasons
But home price statistics in Massachusetts are heavily impacted by seasonal influences.  The S&P/Case-Shiller Index for Boston typically goes up in the spring and summer and tends to decline in the colder, darker months of fall and winter.
So if you take seasonality into account, the Boston Index SHOULD have gone up sharply in June – after all the Index has surged every June for the last four years!
Smaller rise in Boston home prices on seasonally adjusted Index
The need to account for seasonal distortions in home prices is the reason why Standard and Poors publishes an alternative, seasonally-adjusted version of the Case-Shiller Home price Index for Boston.  The seasonal distortions are stripped out of the seasonally-adjusted version of the Boston Index shown below.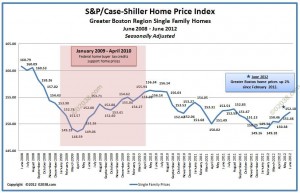 The seasonally adjusted version of the Index shows that Greater Boston home prices rose o.5% in June.  That's much more modest than that gaudy 2.5% gain in the unadjusted Index, but it represents a more accurate and reliable read on how metro-Boston home prices are really performing in 2012.
2% rise since February
As tracked by the seasonally-adjusted version of the Index, Greater Boston home prices are up 2% in the four months from February to June.  That's encouraging news for home sellers but certainly not an 'I-missed-the-market-bottom' cause for regret on the part of prospective MA home buyers.
Home prices in Massachusetts may continue to edge higher for the rest of 2012.  Some experts are calling for higher prices in 2013 as well, counting on the MA economy to continue to improve.
So home buyers should take note: stop looking for home prices to continue to fall.  Your bigger opportunity lies in taking advantage of today's historically low interest rates and buying a home or investment property at a price which will probably look like a great bargain just a few years from now.
Copyright ©2012 02038.com