Greater Boston home prices rose a half a percent last July.  July's 0.5% increase marked the 4th straight monthly advance in the seasonally adjusted S&P/Case-Shiller Home Price Index for Boston.  (July is the most recent month for which price data has been provided by Standard & Poors.)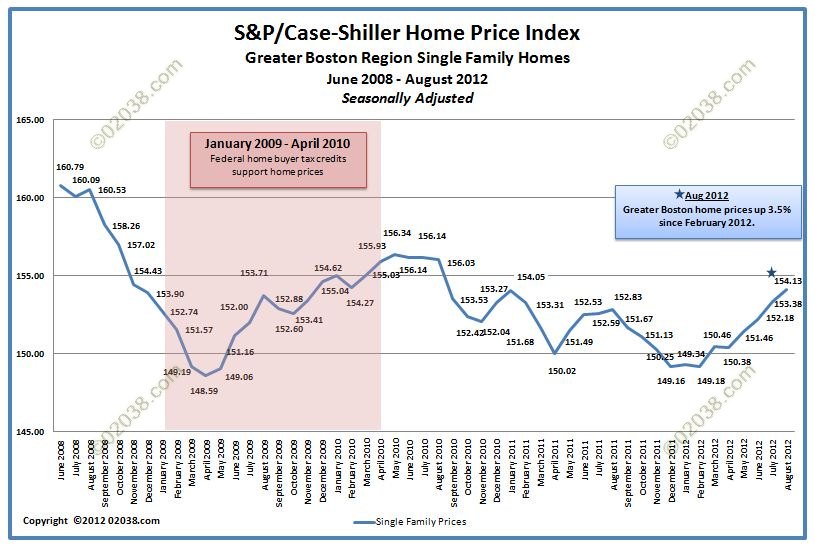 One and half years of losses erased in 4 months
Since February, the Index is up 3.5%. This strong rise in MA home prices rise has essentially erased most of the decline in Bay State home values that started in the middle of 2010 and continued in fits and starts until this spring.
As shown in the area shaded pink in the chart above, MA home prices from January 2009 through April 2010 were artificially supported by a series of Federal tax credit programs.  These programs ran in various forms from January 2009 until they expired on April 30, 2010.
As the chart illustrates, MA home prices went into a prolonged slump after the expiration of those Federal home buyer tax credits.  By December 2011, Greater Boston home prices had fallen back nearly as low as they were in February 2009 at the worst point of the world-wide financial crises.
Base from which to build?
The recovery in Massachusetts home prices back up almost to where they were at the end of the Federal home buyer tax in credits in 2010 has been strong and swift.  In of itself, this is good news for home sellers. What's more important, the recent rise may have formed a good base from which to build further gains in MA home prices!
Unadjusted Boston Index up sharply
There is another version of the S&P/Case-Shiller Home Price Index for Boston.  This version gives a less reliable reading on MA home prices because it does not adjust for pronounced seasonal variations in Bay State home values.
The non-seasonally adjusted Boston Index shows a huge 8.5% increase in Greater Boston home prices over the last 5 months.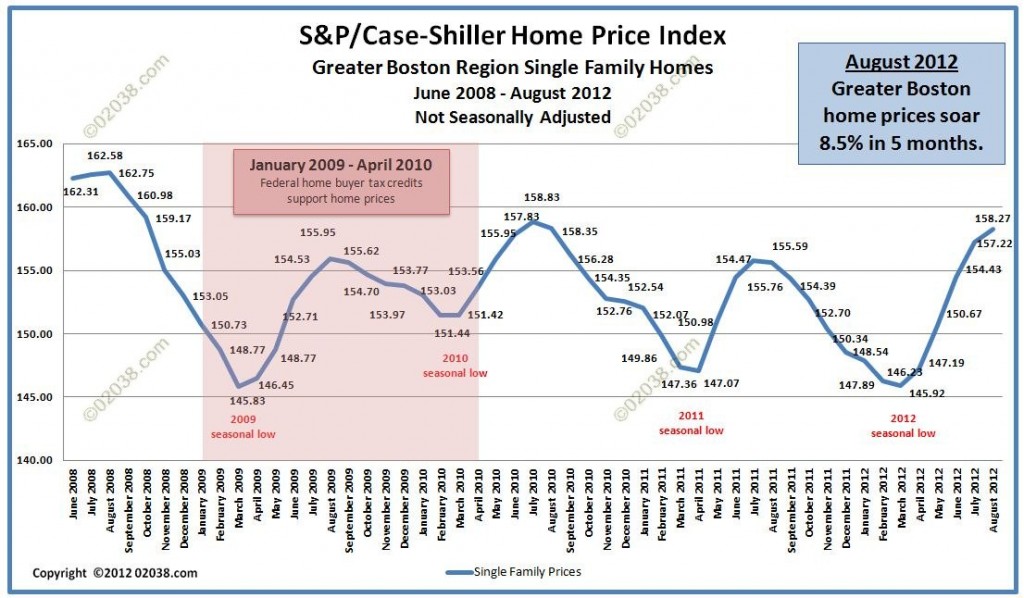 On an annual basis, this amounts to over a 20% gain.  That's a gross overstatement of the present direction of home values in Massachusetts!  And that nicely demonstrates what the seasonally adjusted Index gives a more reliable read on where MA home prices are heading.
Thinking of selling?
If you own a home or investment property in Massachusetts and are thinking of selling, follow the hotlink to ask for a free, no obligation value analysis of your property.  Warren uses cutting edge techniques to sell homes and is a smart choice for your real estate agent!
Copyright ©2012 02038.com