As we approach March and the start of the prime spring home selling season, the supply of available colonial homes for sale in Franklin, MA is nearly depleted. It has been DECADES since there have been so few colonials for sale in Franklin this time of year! With many regions of the US already seeing double digit gains in home sale prices, can a home price spike in this desirable community in the I-495 region of Massachusetts be far behind?
Few colonial homes for sale in Franklin
2012 saw a huge increase in home sales volume in Massachusetts.  The sales pace has kept up so far in 2013. There's a general shortage of single family homes for sale throughout the I-495 high tech corridor and indeed across most of Massachusetts. But for colonial homes in Franklin, MA  supplies of available homes are extraordinarily – even historically – tight.
As shown in the image above, there were only 32 colonial homes for sale in Franklin in late February.  This compares to 54 Franklin colonials for sale this time last February, 73 colonials in late February 2011 and 75 colonials back in February 2010.
I went all the way back to the mid-1990s when Franklin was undergoing a home building boon and there were 100s of colonials for sale in Franklin  – since then, straight to today, NEVER have there been so few colonial homes for sale in Franklin on the MLS at this time of year just before the start of the spring market!
Tight inventory of colonials expressed as months of supply
Here's how the inventory of colonial homes in Franklin looks as expressed as months-worth of supply: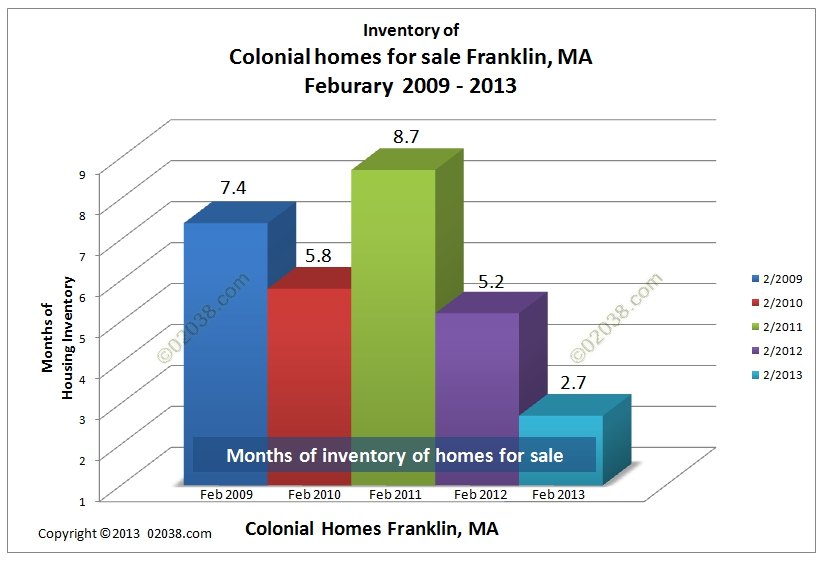 What this means is that at the current rate of colonial home sales in Franklin, it would take only 2.7 months to sell all the colonial homes currently available in town.  This is a very low inventory of colonials and compares to  5.2 months of supply of Franklin colonials in February 2012 and 8.7 months in February two years ago.
Tight inventories lead to home price increases elsewhere in US
An article in the current edition of BusinessWeek details recent large gains in home prices ongoing in many areas of the US.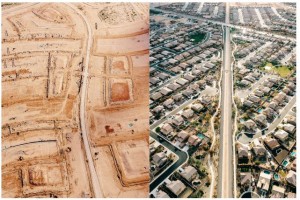 The article says metro-Phoenix is experiencing near boom conditions with a 22.9 percent increase in metro-Phoenix home prices in calendar year 2012 according to figures provided to BusinessWeek by the research firm CoreLogic.
Here's how home values* are faring in select regions of the country according to BusinessWeek: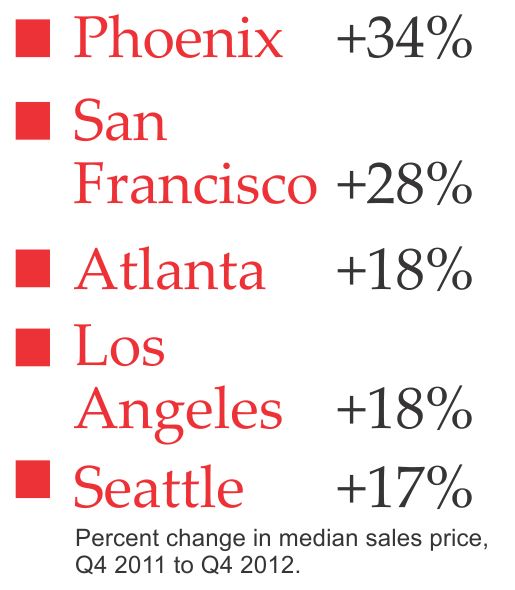 (*Note the percent gain for Phoenix in the graphic above is larger than the CoreLogic figure because it reflects 4th quarter 2012 median prices compared to the 4th quarter of 2011 rather than the price change for the full calendar year just ended as calculated by CoreLogic.)
The three factors contributing to the recent US home price gains cited by BusinessWeek are low mortgage rates, low inventories of homes for sale and a recovering local economy.  Sounds like conditions in Franklin, MA, doesn't it?  It would seem Franklin is ripe for some price appreciation!
Colonial home owners in Franklin have an opportunity
Because the supply of colonials for sale in Franklin is currently so exceptionally low, Franklin colonial home sellers right now face very little competition – that's great news for sellers!  If you live in Franklin and own a colonial,  Spring 2013 looks to be an  unparalleled opportunity to sell your home with pricing power.  So if you've been thinking of selling, now is the time to spring into action!  Explore your options – get the facts – contact Warren for a free, no-obligation Home Value Analysis!  Ask for one today!
Copyright ©2013 02038.com