The market for Franklin Crossing condos in Franklin, MA had an indifferent year in 2012, despite a surge in home sales volume throughout the Bay State last year.
Average sales price and sales volume down
While home sales volume in the overall MA market rocketed a strong 22% in 2012, only four units sold at Franklin Crossing last year. This is below 2011's sales pace of 7 unit sales and matches 2010's meager sales production at this attractive condo community in Franklin, MA.
The average sales price of homes at Franklin Crossing in 2012 fell 3.9% to $123,825 (from $128,814 in 2011).  Days on market (DOM) ballooned to 497 DOM (from 133 DOM the year before).
DOM increased so much at Franklin Crossing last year because 2 of the 4 units that changed hands there in 2012 took literally years to find buyers.  The owners of these long DOM units made the mistake setting their asking prices too high when they listed in 2010 and they kept their over-pricing in place throughout 2011 as Franklin Crossing values declined around them.  These owners finally reduced their asking prices to market levels in 2012 and mercifully got their units sold.
Location of 2012 sales at Franklin Crossing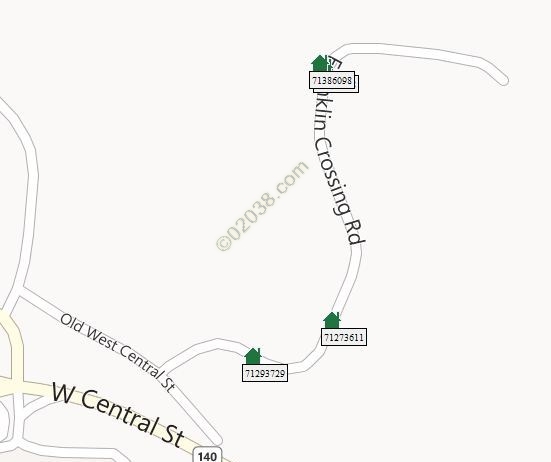 The map above shows the location 2012's sales at Franklin Crossing.
Download the report on 2012's market activity at Franklin Crossing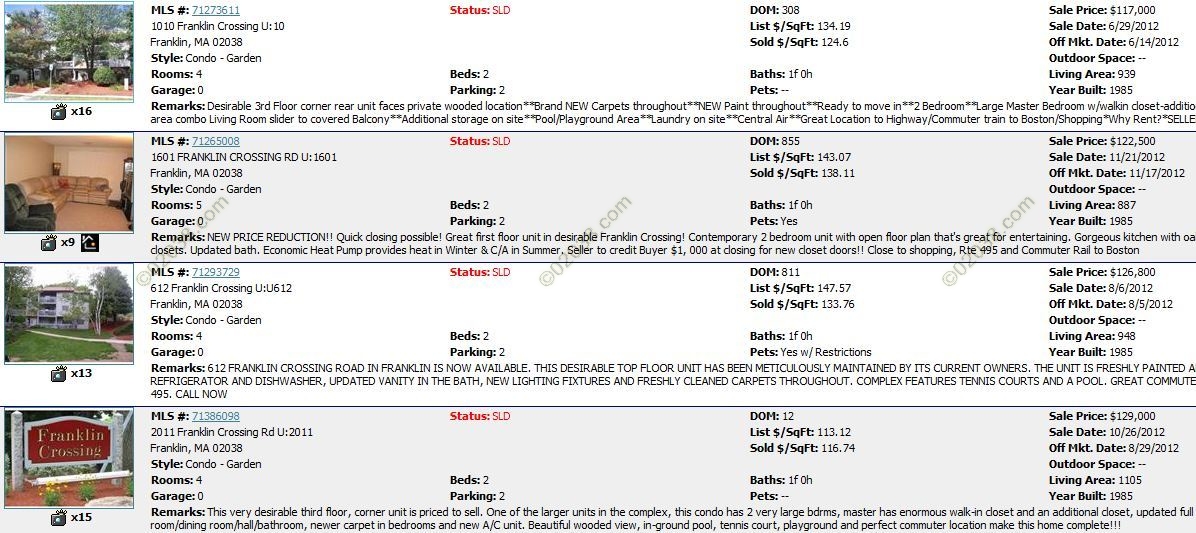 Follow the image above or the hotlink to download a full report on 2012's sales at Franklin Crossing.
The outlook for Franklin Crossing condos
The average sales price of units at Franklin Crossing has declined 40% since 2005 (to $123,825 in 2012 from $207,238 in 2005). Despite this, Franklin Crossing offers many benefits:  a superior location just off Exit 17 of I-495, attractive, well-maintained grounds and common areas, and strong demand for rental units. MA real estate had a good year in 2012 and 2013 has started strong.  If the strengthening trend in Massachusetts real estate continues, we should see better times ahead at Franklin Crossing!
If you have any questions about how your Franklin Crossing unit stacks up in the local market in terms of price, features and amenities, I would be happy to assist you. I'll prepare an in-depth Home Market Analysis for the property.  Just give me a call at 508-613-2889 or email me.  No cost or obligation!