Colonial homes in Franklin, MA enjoyed what amounted to a mini-boom during the first half of 2013.  Colonial prices and sales volume spiked on strong buyer demand for Franklin colonials of just about any size and condition.
Colonial prices rise in Franklin
The median sales price of colonial homes in Franklin jumped 6.2% during the first six months of the year compared to year-ago levels.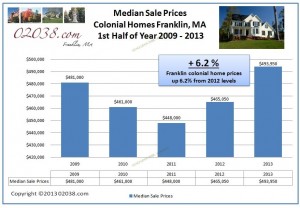 Since  the first half of 2011, the median sales price of colonials in Franklin, MA has climbed just over 10%.
A few words of caution regarding the value of your Franklin colonial in the second half of 2013:  changes in mortgage interest rates may play a role in how your home's value will fare for the rest of the year.  The run-up in rates that took place in June did appear to slow the local real estate market at least a bit.  If rates were to shoot up further in 2013, the rise in Franklin colonial home sales prices might take a breather.
Franklin colonial sales volume up
The first half of 2013 saw solid growth in the number of colonials sold in Franklin, Massachusetts. 64 Franklin colonials changed hands during the first 6 months of 2013, a 14.3% increase over the 56 colonial homes sold in town during the first half of 2012.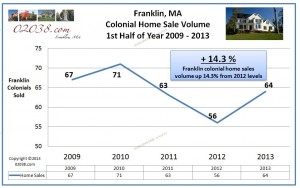 2013's first half Franklin colonial sale volume was on par with first half colonial sales in 2011 and just a bit below the first half figures for 2010 and 2009.
Report on colonials sold in Franklin, MA 1st half of 2013

Follow the link or the image below to download a full color report on all Franklin colonials that sold during the first half of 2013.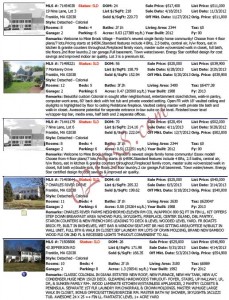 Contact Warren for more information on any of the colonial home sales in the above report.
Why are Franklin colonial home prices and sales volume rising?
 The short answer to why colonial homes in Franklin had such a great first half of 2013 is tight supply at a time of strong demand.  Supply and demand shape the residential real estate market.  Abundant supply at a time of low demand sets the stage for falling home prices.  A low supply of homes for sale coupled with lots of active buyers  help send home sales prices higher.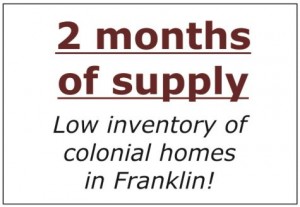 At the rate colonial homes are selling in Franklin, it would take just two months for all the Franklin colonials currently on the market to find buyers.  That's pretty low inventory!  It's a smart time to sell your colonial home in Franklin!
Thinking of selling your colonial home?
The Massachusetts real estate market is a lot better these days than what it was a few years ago! Home prices and sales volume are up throughout most of the Greater Boston and I495 market areas.  This good news means your colonial home is probably worth more now than at any time in the last 5 years.
If you're thinking of selling your Franklin colonial, the crucial question is how to maximize your home sale proceeds. You can best do this by increasing your home's appeal without spending a lot of money on needless upgrades and expensive repairs. You can further boost your proceeds by marketing the property in effective and creative ways that reach today's tech-savvy buyers. That's where Warren comes in! Warren knows the money-making fix-ups and showcasing techniques that pay back best at closing.  He also knows how to market Franklin homes; he'll ensure that you'll get the best sale price for your Franklin colonial! Warren has a long track record of happy clients who'll attest to his skill at selling homes quickly and at the best price, no matter what!
If you're thinking of selling, contact Warren!  Ask for his free, no-obligation Home Value Analysis. Get the facts about where your home fits in today's market and the help you need to get a better selling price for your property!
Copyright ©2013 02038.com